The Best Sundanese Restaurant in Bandung
Whenever you visit Bandung Indonesia, we strongly encourage you to dine-in in a Sundanese restaurant. It might be one of a kind experience during your holiday, because on top of the tasty Sundanese dishes, many restaurants have Sundanese rural atmospheres. The dining rooms are in small gazebos called saung, surrounded by a fish pond, rice field, or garden, accompanied by instrumental Sundanese ensembles called Degung. The servers usually wear traditional Sundanese costumes. 
Best Sundanese Restaurant in Bandung

There are plenty of Sundanese restaurants in Bandung, each offering specialty dishes on their menu. Here is a list of the most recommended Sundanese restaurant in Bandung:

Sindang Reret

Opening for business since 1973, Sindang Reret is one of the oldest Sundanese Restaurants in West Java. There are four Sindang Reret restaurants spread out in West Java province (Bandung, Lembang, Ciwidey, and Karawang). Sindang Reret Cikole Lembang and Ciwidey have hotels and playgrounds. All of them are good places to hang out and relax.
In our opinion, the special dish from Sindang Reret is gepuk. Gepuk is sliced beef that is seasoned, cooked, and then fried. Gepuk from Sindang Reret are perfectly seasoned and cooked until tender. 
Dapoer Pandan Wangi

There are two outlets of Dapoer Pandan Wangi, both are within the city of Bandung: Patuha street no. 38 and Terusan Pasirkoja street no. 380, Bandung.
A special dish from this Sundanese restaurant is Terong Raos — they are Sundanese words for delicious eggplant. Terong Raos are slices of eggplants covered with seasoned flour and then fried. 

Surprisingly, Dapoer Pandan Wangi serves ampas kecap — an oilcake or waste of black beans from producing soy sauce. It is considered poor people's food, but they are delicious! 
Ma'Uneh "Asli"

Address: Gang (alley in English) Terasana no. 132, Pajajaran street, Bandung.
Opened in 1960, Ma'Uneh is a legendary Sundanese restaurant in Bandung. Many people keep returning to Ma'Uneh, despite its location in Gang Terasana — a narrow alley adjacent to the quinine factory on Pajajaran Street, Bandung.
This Sundanese restaurant serves various home-cooked Sundanese meals. Their specialties are beef entrails (tripes, intestines, lungs, tongue, etc.) and varieties of pepes (dishes wrapped with banana leaf and then steamed or grilled).
Kampung Daun Culture Gallery and Cafe

Address: Jalan Sersan Bajuri Km. 4.7 no. 88 RRI Lembang (inside the Trinity Villa)
Opened in 1999, Kampung Daun looks like a small Sundanese village. It has 47 small gazebos on two and a half hectares of land.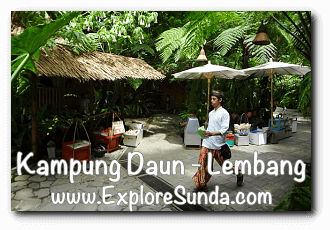 One of the special menus in Kampung Daun is Nasi Kukus Legend (The Legendary Steamed Rice in English). It is steamed rice mixed with anchovies, basil leaves, chilis, and petai (Parkia speciosa or bitter bean) and wrapped in banana leaves. If you prefer light meals, you might want to try traditional snacks, such as surabi and fried banana. In addition to Sundanese dishes, you also can order pizzas and pasta here!

Sapulidi Cafe, Resort & Gallery

Address: Graha Puspa Housing Complex at Sersan Bajuri street, Cihideung, Lembang Bandung.
Sapulidi Cafe, Resort & Gallery is another popular Sundanese restaurant at Cihideung village, Bandung. The location is inside the housing complex of Graha Puspa.
There are several layouts in Sapulidi you can choose from: dining in the middle of the rice field, near a lotus pond, or inside the main restaurant. It is easy to spot the special on the menu because they use Sundanese words for dishes prepared with secret recipes! On weekends, they also serve snacks such as fried cassava, surabi (Sundanese pancake), and Wedang Ronde (glutinous rice balls in sweetened ginger syrup).

Liwet Asep Stroberi (Asstro)

The first Asep Stroberi restaurant opened in 2006. Today, this Sundanese restaurant has sixteen outlets, spread out in the Greater Bandung area, Garut, and Tasikmalaya. The one in the city of Bandung is at Linggawastu street no. 11. They also have two outlets near Lembang:
at Jalan Raya Lembang, right before you enter Lembang from Bandung, 
the Asstro Highland Ciater, at Jalan Raya Subang, Ciater.
Every outlet serves a slightly different menu, but their specialties are Nasi Liwet and oxtail soup. They also sell fried and grilled gourami with many varieties of sauce. As usual, the spicier the sauce, the better!
Gubug Makan Mang Engking

Since opened in 2002, Gubug Makan Mang Engking has more than twenty outlets all over Java. Two outlets are in Bandung: one in the north near Lembang (Jalan Raya Tangkuban Perahu Km. 1, no. 68 Lembang) and one in the south at Jalan Kopo Bihbul no. 45, Sayati Bandung.
This Sundanese restaurant specializes in Sundanese seafood, such as honey grilled prawns, crab, and soft crab. Of course, they also serve the typical Sundanese food, such as fried or grilled chicken and gourami.
What should you order in the Sundanese Restaurant?
Sundanese food comprises a broad range of dishes: salads, main course, desserts, and drinks. Every Sundanese restaurant has a slightly different menu considering how they cook and present the dishes. But overall, you can expect these Sundanese foods in any Sundanese restaurant:
Drinks, such as fresh young coconuts, 

bajigur

and

bandrek.

Desserts — various traditional snacks and desserts, such as

surabi

and

colenak

.
May 23, 23 04:28 AM

Planning to travel to Jakarta? Find the tips on traveling to Jakarta, getting around Jakarta, history, and frequently asked questions here ...

May 22, 23 11:28 PM

Get all the information on Jakarta airport train here: the train stations, how much the ticket cost, and how to buy tickets.

May 19, 23 03:36 AM

Get the best view of Malabar tea plantation, Situ Cileunca, and Pangalengan Bandung from Nimo Highland!