Hot Spring in Cipanas, Garut
Garut is always known for its hot springs. The pioneer is at the suburb called Cipanas. It means hot spring in Sunda language (Ci=water or river, panas=hot). Since Garut is surrounded by active volcanoes, hot springs are easy to find. Today, there are plenty of hot springs are opened for public, because many people believe that taking a bath in hot springs can cure several skin diseases. No wonder hot springs become a favorite family vacation destination.
Initially, the hot springs used to be a place with several bathrooms with thermal bath. Then it had a swimming pool. Nowadays there are a few hotels scattered in Cipanas Garut. Some hotels have waterparks that are filled with these naturally heated springs! So guests can play in the warm water all day long :)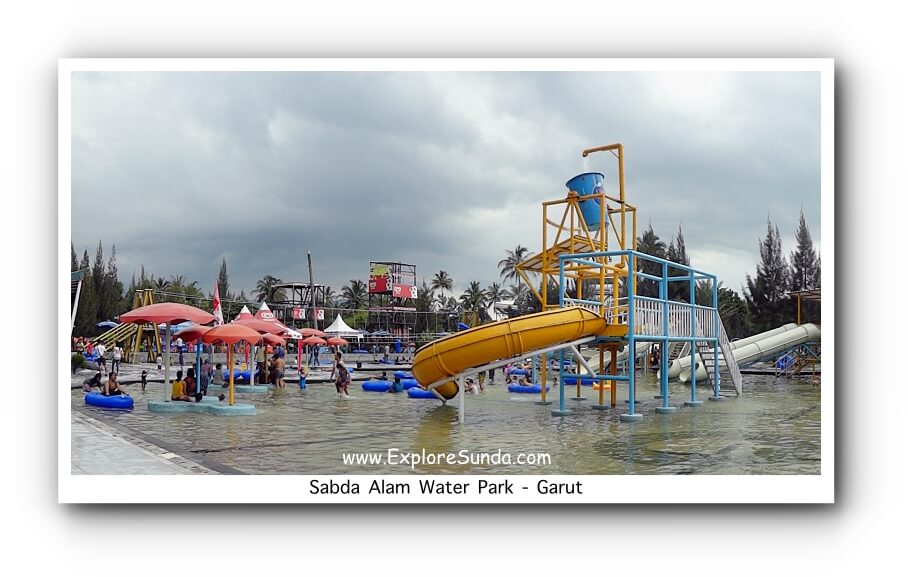 The pioneer of water parks in Garut was Sabda Alam hotel. Unfortunately, when I went there in December 2012 the water park was not well maintained. The water was warm but it was brownish to greenish. Some floors and stairs were slippery. The bathrooms were very basic, each bathroom only had a pipe flowing hot water. It was literally hot, directly from the hot spring and there was not any cold water to mix it with.  Nevertheless, we had fun there. We passed the hanging bridge and watched people slide with tubes. There was a giant bucket that threw water every few minutes. Many people preferred to sit under it and count down waiting for the bucket pouring the water over them.
There were a couple of fish ponds made of cement under the highest  slides. These ponds were filled with Garrarufa fish, also known as the doctor fish. You put in your feet in the pond and these fish bit your dead skin. However, they were larger than the normal size used in foot spa, so their bites were harder.

Overall, this water park had some basic facilities to be called water park, but don't raise your expectation too high.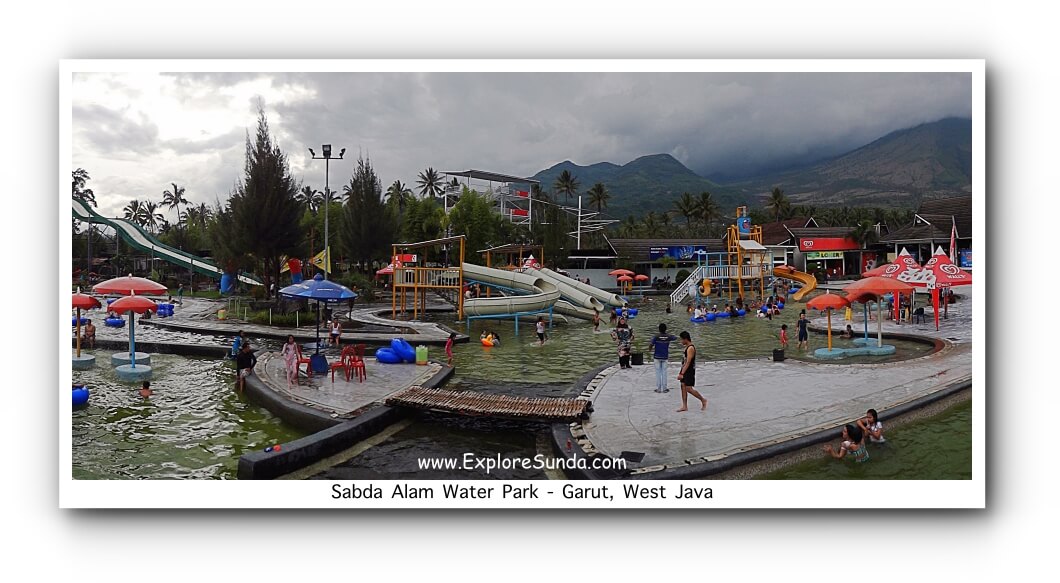 The ticket price is Rp 40,000 per person on weekends. It is free if you are the guest of the hotel. The cheaper alternative is to buy tickets to take a hot bath in some bathrooms scattered in this area or swimming in the first swimming pool in Cipanas, which is located at the end of the road.

Besides Sabda Alam, other hotels also provide water parks in their yards, such as its neighbor: Dariza Hotel. Other hotels have swimming pool, all filled with water from the hot spring. Since it is a small area, we, at ExploreSunda.com, recommend you to shop around first before you decide where to play or spend a night. You even can bargain the room rate during low season.

Directions to Cipanas, Garut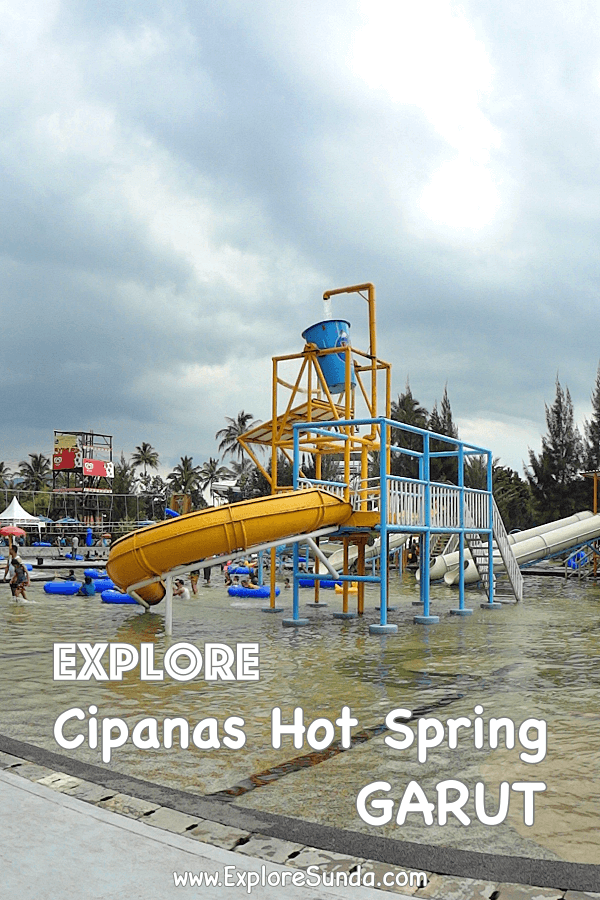 It is relatively easy to go to Cipanas, since it is located just before you enter the town of Garut. Thus, from  Bandung you drive through Padaleunyi toll road to Cileunyi, which is the end of the toll road. You supposedly turn right at the traffic light, but since it is blocked, you have to pass it, make a U-turn and then turn left at the same traffic light. The GPS coordinates to reach Cipanas are 7°10'40.1"S 107°52'17.6"E (-7.177803, 107.871555).

There are many textile factories along this road, which makes the traffic congested during the change of shifts. Moreover, it is the main road to go from western part of Java to Central Java via southern main road. Hence, although it is only 60 kilometers from Bandung, usually it takes longer than one hour to reach Cipanas Garut.

At approximately 45 kilometers from Bandung, you will see two large traffic signs that show the direction to Garut. Therefore, if you miss the first one, don't panic, just drive a couple hundred meters ahead and you'll see another right turn. Then you only need to follow the road until you see another traffic sign showing the direction to Cipanas. Please note that the location of Cipanas is before Garut. 
---
Have you checked out other highlands in the land of Sunda? There are craters in Lembang and Ciwidey, each with their own hot springs. While Puncak Pass is popular with its tea plantation and botanical garden. Sunda also has plenty of gorgeous beach!
Dec 04, 23 08:41 PM

Summarecon Mal Serpong: the favorite shopping mall in South Tangerang for the whole family to do shopping, pamper in beauty salons, learn to cook in a cooking studio, watch movies, and play in the arc…

Oct 26, 23 11:32 PM

A visit to Benteng Heritage Museum at the old town of Tangerang to see the history and culture of China Benteng.

Oct 13, 23 03:33 AM

Explore De Voyage Bogor, a new European theme garden for selfie and hang out. Take tons of beautiful pictures and join the activities :)