Bunkers in Taman Hutan Raya Ir. H. Djuanda
at Dago Bandung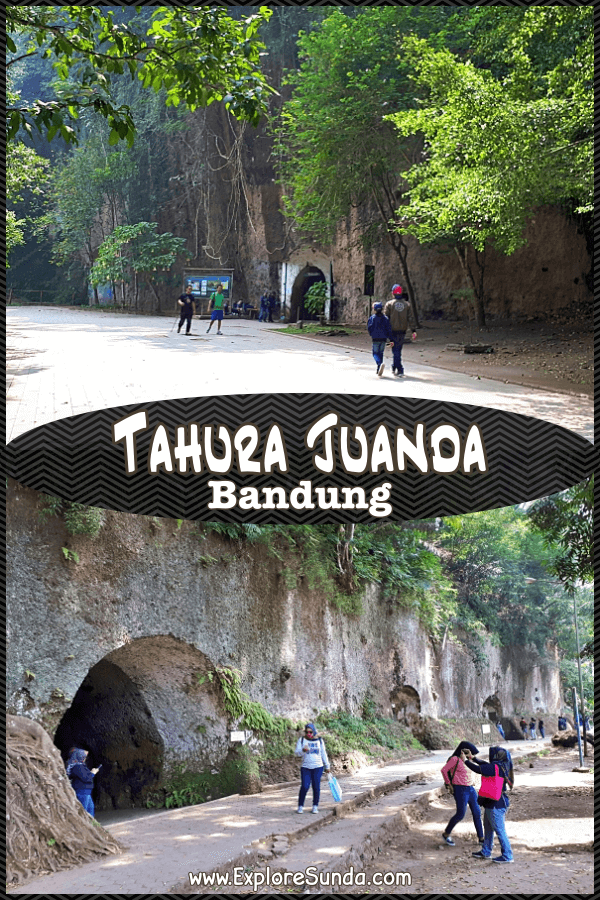 While we are in Tahura Juanda (Dago Pakar) at Dago Bandung, let's start our exploration with the most sought after activities: explore the Dutch and Japanese caves! 
Since there are four gates to enter this forest park, make sure you start either at the first or second gate, both are accessible through Ir. H. Juanda street ( it used to be called Dago street). 
According to the Tahura Juanda map (on the back side of your ticket), the Japanese cave is 500 meters from gate one, while the Dutch cave is 700 meters from the Japanese cave. Although it is called forest park, the main path up to the Dutch cave is either asphalt road or paved. So, wheelchairs and strollers can be used here. In my experience, it is easier to just walk on the asphalt road until you reach the Dutch cave than try to decipher the signs. 
For example, there was a sign directing us to go to the left to Japanese cave, but we ended up at the outbound area. In the end, we arrived at the Dutch cave first and visit the Japanese cave on the way home. 
Tips:

Don't throw away your ticket! Turn it over and you will see Tahura Juanda map, including the distance between places.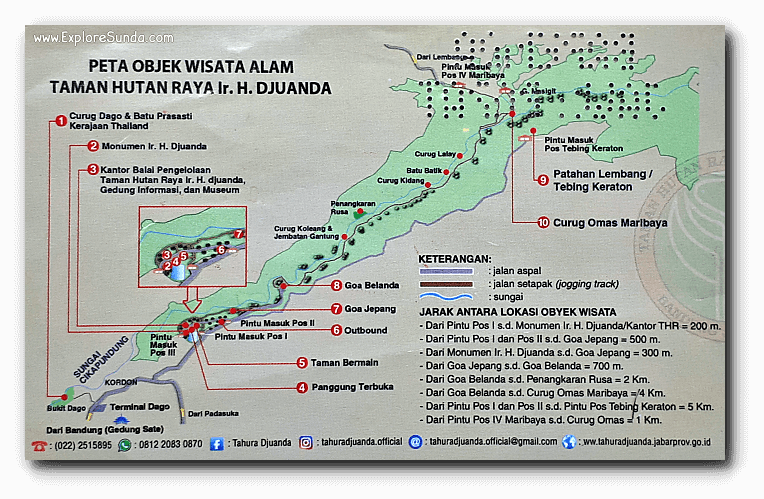 Dutch Cave (Bunker) in Tahura Juanda, Dago Bandung

This man-made cave is the iconic feature of Tahura Juanda. It started in 1906 when the Dutch dig a tunnel through a tuffaceous sandstone hill to build a hydroelectric power plant. But somehow it didn't work. Several years later the Dutch expanded the tunnel and used it as a bunker during World War II. Even the Indonesian government still used this cave as an ammunition warehouse until 1970s.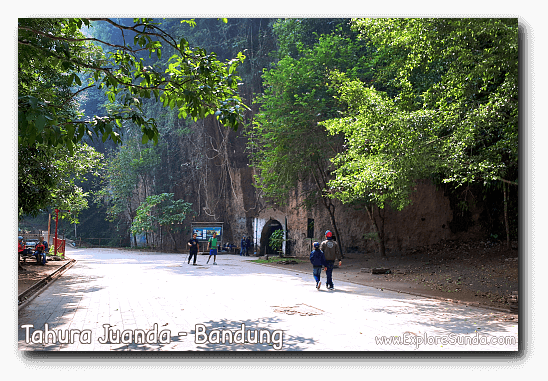 Today, along with other facilities in Tahura Juanda, this Dutch cave is opened for public. Visitors are allowed to roam inside the cave. This cave is huge, originally there was only one main tunnel to pass through the hill. Then they added several corridors to the left and right as well as a large door for logistics when it was used for military. 

While the ventilation system is intact, there isn't any lighting inside the cave, so it is pitch black. Don't worry though, as soon as you approach the door, a man will offer you a flashlight. If you accept it, it means you agree to rent it. The rental price is Rp. 5,000 /flashlight. They also provide tour guides to roam the cave for Rp. 30,000.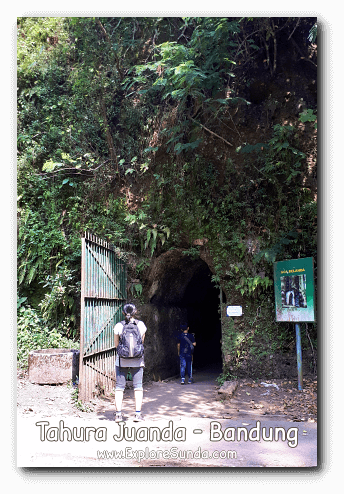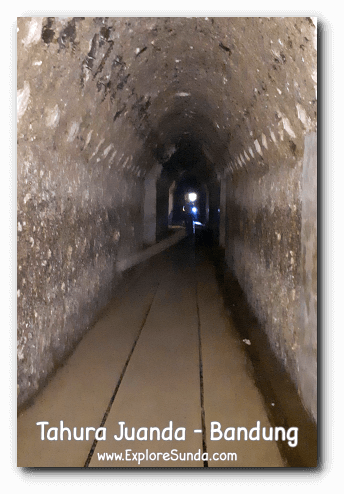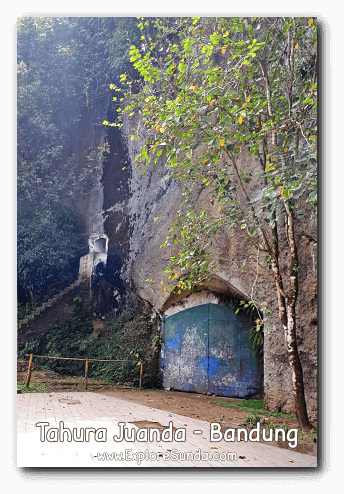 Once you have emerged at the other side of the hill, you can turn around and return to Dago Bandung or continue your walk until you reach Tebing Keraton (near gate three) or Maribaya, Lembang (near gate four).
Since we parked our car in gate one parking lot, we opted to turn around and walked back to the plaza. Then, we saw a sign to the Japanese cave at a fork. It directed us to a lower land. Luckily the path was already paved, so we were certain we would not be totally lost in the forest.
Japanese Cave (Bunker) in Tahura Juanda, Dago Bandung
From military point of view, Tahura Juanda had a very strategic advantage: the location was hidden, secured from enemy and closed enough to Bandung. Thus, when the Japanese defeated the Dutch during World War II, they immediately dug a cave here and established a military base.

Unlike the Dutch cave, which is huge and in the open, the Japanese cave is smaller and hidden among large trees. Even the path is not easily spotted.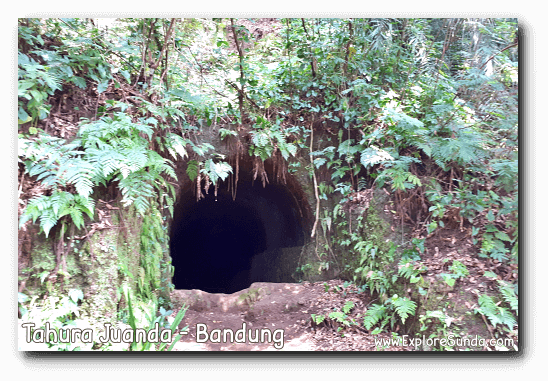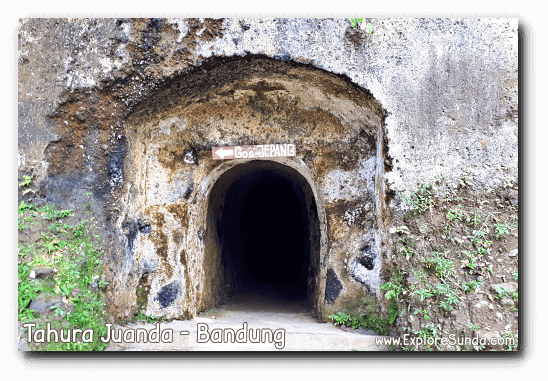 Following a paved path to a lower land, we finally found a cave, hidden among giant roots from the tree above it, then another and another. It turned out that the Japanese cave had several entrances. According to the layout in front of the main cave, there were six entrances, they were all interconnected inside the cave.

Similar to the Dutch cave, there are flashlights rental and tour guide offered here. The price are the same (Rp. 5,000/flashlight and Rp. 30,000 for a tour guide).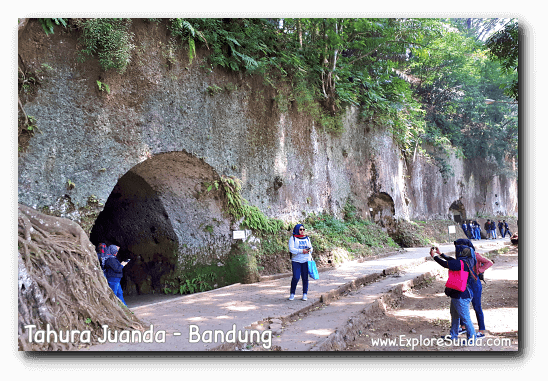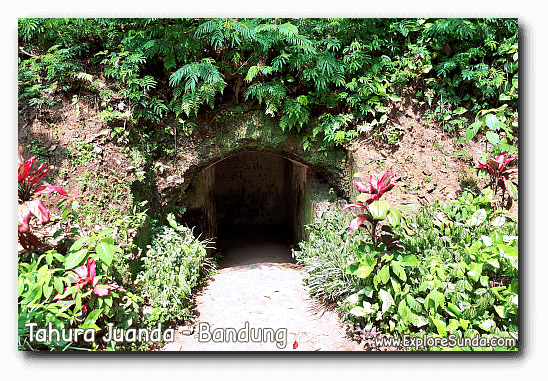 Tips:
Being in the forest and all, bugs are inevitable. So, don't forget to wear mosquito repellent or patch, especially if your skin is sensitive to any bug invasion!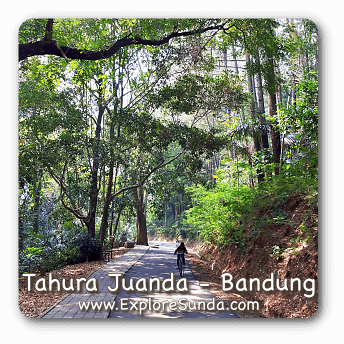 Taman Hutan Raya Ir. H. Djuanda has more than military bunkers, which we conveniently called caves. Many people visit this park to have a picnic around the plaza, do outbounds, go camping, visit the museum or play in the playground. They are all located near gate one and two at Dago Bandung. However, the most popular activity here is hiking from gate one or two, passing through the Dutch cave, until we reach gate four in Maribaya, Lembang.

Continue reading on Fun Activities in Tahura Juanda …
The greatest part of Tahura Juanda is its location, which is in a very close distance to Bandung and Lembang, where many fun family activities can be found.  
Bandung is more like a hub, connecting many great places, from highland to beaches, many of them are within less than half day driving. Let's explore them all :)
Dec 04, 23 08:41 PM

Summarecon Mal Serpong: the favorite shopping mall in South Tangerang for the whole family to do shopping, pamper in beauty salons, learn to cook in a cooking studio, watch movies, and play in the arc…

Oct 26, 23 11:32 PM

A visit to Benteng Heritage Museum at the old town of Tangerang to see the history and culture of China Benteng.

Oct 13, 23 03:33 AM

Explore De Voyage Bogor, a new European theme garden for selfie and hang out. Take tons of beautiful pictures and join the activities :)