Top 3 City Parks in Tangerang Selatan
Tangerang Selatan is a new satellite city in the south east of Jakarta that keeps growing. Thankfully it has several city parks that functioned as a green belt as well as a public place to exercise.
You will find many people come to the city parks to exercise such as walking, jogging, and line dance, while others come to relax on the benches provided and enjoy the view and weather.
Of these city parks in Tangerang Selatan, which one is your favorite?
1.  Taman Kota 2, BSD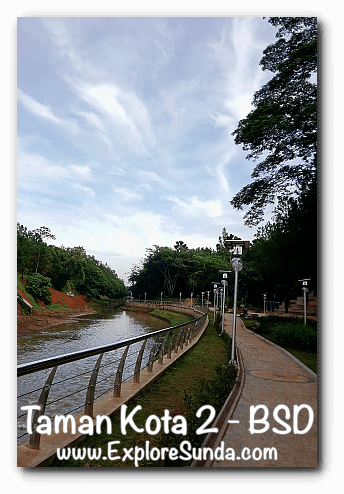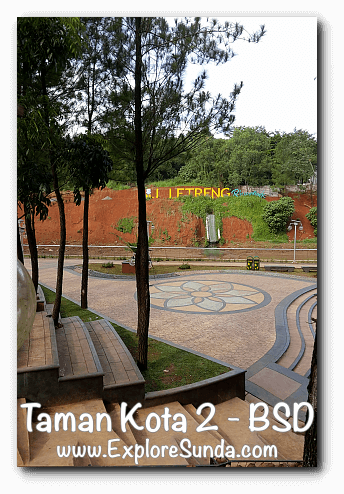 Opening hours: 6am-6pm
The gate to this park is located at Tekno Widya street, Bumi Serpong Damai City [BSD City], Tangerang Selatan. It has spacious parking lot and some food stalls at the end of it.
Taman Kota 2 doesn't look like a garden, not even a park. It looks more like a forest with tall trees everywhere. It resides along a river, so first, you must walk across the red bridge. Then, you can start walking or jogging following the path. When we, from ExploreSunda.com, visited in November 2017, there are some constructions at the far end of this park. The worker mentioned it will become a function hall and planned to be opened in December 2017. This section is named J.Letreng RiverPark.
I really hope Taman Kota 2 will be cleaner by then. Present condition: although there are many signs asking to put the garbage in the waste bin, the garbage are still everywhere and the waste bins are very scarce.
Being in a man made forest, you'd better wear mosquito patch or repellents. When we were there, there are so many blood sucking mosquitos disturbing us.

2.  Taman Kota 1, BSD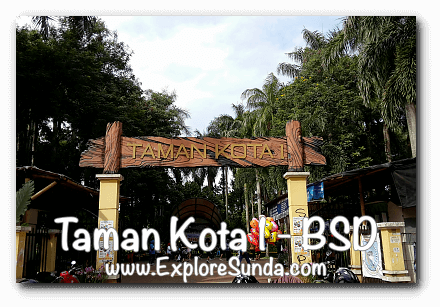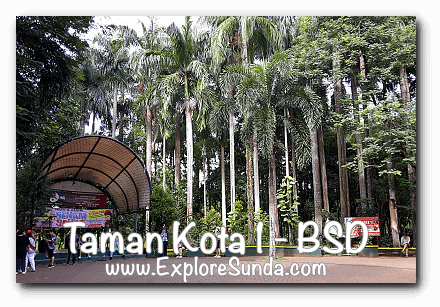 Opening hours: 6am-6pm
Taman Kota 1 is located at Let. Sutopo street, Tangerang Selatan. Compared with Taman Kota 2, the park and parking lot are much smaller, it is cleaner, and the visitors are more than triple. It is more lively with a community dance together in the plaza. Many people jogging along the path in the park.
So, if you look for a quiet place, you should go to Taman Kota 2. But if you prefer crowds, try do the exercise in Taman Kota 1.

3.  Downtown Lake East, Alam Sutera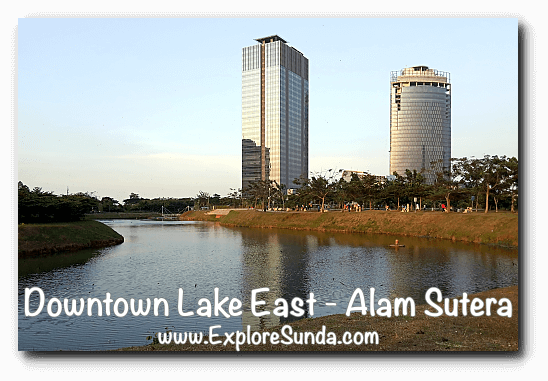 As one of the major residence in Tangerang Selatan, Alam Sutera provides several jogging and cycling tracks. One of them is circling the Downtown Lake East for 1.5 kilometers. This city park is centered on the lake. You can jog along the lake, relax on the benches, enjoy the view, watch children play in the playground, do some exercises in the outdoor gym, or take pictures with the Chinese zodiac statues. Naturally, the best time to visit this park is in the morning or late afternoon when the heat is bearable.


Other City Parks in Tangerang Selatan
Situ Pondok Jagung

Situ is a Sundanese word for lake, while Pondok Jagung (Corn Hut in English) is the name of the location, although the locals are more familiar with its former name: Rawa Kutuk (Cursed Swamp in English). Earlier this year the city worker cleaned up the lake and installed jogging path circling the lake. So, it is different from other city parks above since there is only a lake and jogging path here. Hence, the visitors are either coming here to exercise or fishing.


Bintaro Jaya Exchange Mall

This mall has a large park on one of its side, which you can directly access it from the street. In addition to a manicured lawn, it has an open air stage and some restaurants in the mall are having outdoor dining, it feels like dining in a terrace with a great view of the garden.

Scientia Square Park
Located and managed by Summarecon Serpong, this is a paid park, i.e. you have to buy tickets to enter and additional tickets for other facilities such as renting a skateboard or inline-skate. 
It is a huge park, which has a big climbing wall, a wide skateboard tracks, two circuits to play remote control cars, even a small rice paddy field! 
Continue reading about Scientia Square Park ...
Besides city parks, the cities of Tangerang and Tangerang Selatan present many fun activities. Some of them are:

City Parks in Tangerang Selatan
May 23, 23 04:28 AM

Planning to travel to Jakarta? Find the tips on traveling to Jakarta, getting around Jakarta, history, and frequently asked questions here ...

May 22, 23 11:28 PM

Get all the information on Jakarta airport train here: the train stations, how much the ticket cost, and how to buy tickets.

May 19, 23 03:36 AM

Get the best view of Malabar tea plantation, Situ Cileunca, and Pangalengan Bandung from Nimo Highland!