Option 2 of Sightseeing Jakarta:
Visit Taman Mini Indonesia Indah and Jakarta Aquarium.

The second option of sightseeing Jakarta in one day is to spend half a day in Taman Mini Indonesia Indah (TMII), and then spend the remaining day in Neo Soho Mall to explore the Jakarta Aquarium.
Since Taman Mini Indonesia Indah (TMII) is a massive park, spending several hours here will not do justice. Hence, you have to decide which parks and museums interest you most. Since most of the places of interest in TMII are outdoor, it would be better for you to start early to avoid the crowd and the heat. Although museums, rides, and several parks open around 9 AM, the entrance gate opens at 7 AM. You can look around and take tons of pictures first. 
There are 34 provinces in Indonesia; each has at least one of its traditional houses displayed in TMII. You won't have time and energy to explore them all, but you can choose one or two that interest you the most. Another fun option is to see them all by taking a short ride on a cable car.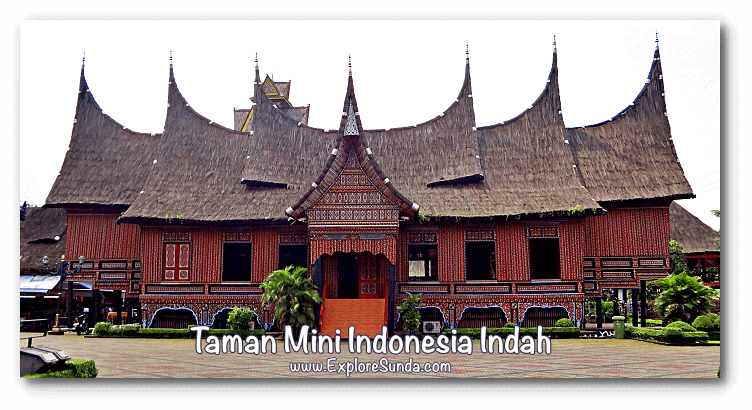 Rumah Gadang from West Sumatra province is one of the favorite photo spots due to its colorful and intricate design.
Another recommended place to see in Taman Mini Indonesia Indah is the Bird Park. It has beautiful gardens where birds from all over Indonesia fly freely inside the giant domes. 

Continue exploring Taman Mini Indonesia Indah here ...
Next on the itinerary is to go to Jakarta Aquarium. The location is on the lower ground level of Neo Soho Mall at Letjen S. Parman Street, West Jakarta. Neo Soho Mall is connected to Central Park Mall and within walking distance to Taman Anggrek Mall.

Usually, it takes about an hour or two to explore the Jakarta Aquarium. You will be amazed by the sea creatures that live here :) Find out more about Jakarta Aquarium here ...
As prominent malls in Jakarta, there are so many restaurants here. It's no surprise if you have a hard time choosing where to dine :) At Pingoo restaurant, you can dine-in while watching penguins! You also will find many restaurants line up at the underground tunnel that connects Neo Soho Mall and Central Park Mall. 
On that note, sightseeing Jakarta in one day ends. I hope these two itineraries give you ideas for sightseeing in Jakarta. Need more ideas? Read more things to do in Jakarta here ...