Sightseeing Jakarta in One Day

You might wonder, would that be possible to sightseeing Jakarta in one day to discover the history, nature, and culture of Jakarta in particular and Indonesia in general.
The problem is Jakarta is a big city with so many things going on. Jakarta is the capital city as well as the business center of Indonesia. It is the most populated city in Indonesia, which means numerous entertainments and tourist attractions are ready to indulge you. Hence, most likely, you will not be satisfied with spending only one day in Jakarta.
Nevertheless, if you only have one day, my recommendations for sightseeing Jakarta would be:
Option 1 of Sightseeing Jakarta:
Explore Monas, National Museum, and Jakarta Old Town.

The first option of sightseeing Jakarta in one day is to discover the history and the culture. You might want to start early to visit Monas, the landmark of Jakarta. It's because you will do a long walk from the gate to the monument, which is much more pleasant to do under the morning sun. The second reason is there is only one elevator to take you up to the top of the monument. Usually, the morning queue is short to non-existent. It means, when you reach the top platform, you will share it with fewer people.
Find out about Monas in more detail here...
Next on the agenda is to explore the National Museum of Indonesia, more popularly known as Museum Gajah. The location is across the street from Monas. Museum Gajah is the largest museum in Indonesia. 
Can you guess why it is called Museum Gajah (Elephant Museum in English)? Find out the answer here...
There is a bus station right in front of the Museum Gajah. You might want to wait for a free double-decker bus that can take you to the Kota Tua Jakarta (Jakarta Old Town). Unfortunately, it is hard to tell when the bus arrives. Alternatively, you cross half the street to reach the Trans Jakarta bus station. You will reach Kota Tua in approximately 15 minutes. It is the last stop of the Trans Jakarta bus, so everybody will have to get off there.

There are several options for lunch in Kota Tua Jakarta. The first option is to choose one of the several fast-food restaurants inside the Jakarta Kota Train Station. The second option is dining at Batavia Cafe in Fatahillah square. It is a quaint restaurant that has many historical memorabilia. 
Check out what Kota Tua Jakarta has to offer here...
In addition to the many historical buildings, there are six museums in Kota Tua Jakarta. At the very least, you should go to the Jakarta History Museum, which is also known as Fatahillah Museum. It is the largest museum in the District Museum of Kota Tua Jakarta. You will learn the history of Jakarta through the many artifacts displayed. Plus, you will have a chance to admire the architecture of this grand building that used to be a city hall.
Continue exploring Jakarta History Museum here...
Option 2 of Sightseeing Jakarta:
Visit Taman Mini Indonesia Indah and Jakarta Aquarium.

The second option of sightseeing Jakarta in one day is to spend half a day in Taman Mini Indonesia Indah (TMII). And then spend the remaining day in Neo Soho Mall to explore the Jakarta Aquarium.
Since Taman Mini Indonesia Indah (TMII) is a massive park, spending several hours here will not do justice. Hence, you have to decide which parks and museums interest you most. Since most of the places of interest in TMII are outdoor, it would be better for you to start early to avoid the crowd and the heat. Although museums, rides, and several parks open around 9 AM, the entrance gate opens at 7 AM. You can look around and take tons of pictures first. 
There are 34 provinces in Indonesia; each has at least one of its traditional houses displayed in TMII. You won't have time and energy to explore them all, but you can choose one or two that interest you the most. 
A hint: Rumah Gadang from West Sumatra province is one of the top picks due to its colorful and intricate design :) Take a cable car to see them all from the sky. You can see that these traditional houses are on the banks of the Indonesia Archipelago park.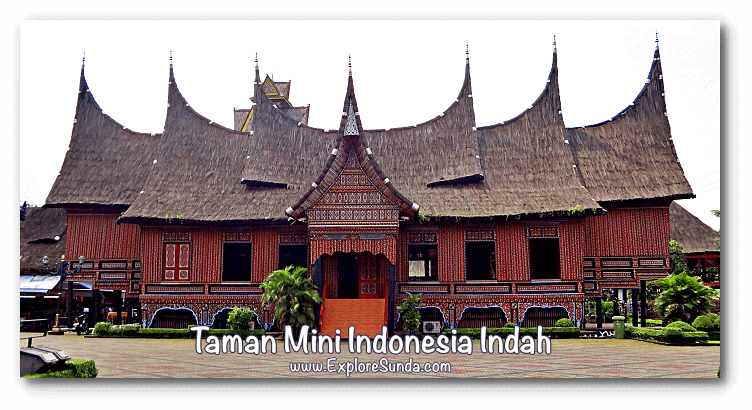 Another recommended place to see in Taman Mini Indonesia Indah is Bird Park. It has beautiful gardens where birds from all over Indonesia fly freely inside the giant domes. 

Continue exploring Taman Mini Indonesia Indah here...
Lunch in Taman Mini Indonesia Indah might not be satisfying since you will only find a couple of food courts and fast food joints. 
Next on the itinerary is to go to Neo Soho Mall at Letjen S. Parman Street, West Jakarta. It is connected to Central Park Mall and within walking distance to Taman Anggrek Mall.
The Jakarta Aquarium is on the lower ground level of Neo Soho Mall. Usually, it takes about an hour or two to explore the Jakarta Aquarium. You will be amazed by the sea creatures that live here :) 
Find out more about Jakarta Aquarium here ...
As prominent malls in Jakarta, there are so many restaurants here. It's no surprise if you have a hard time choosing where to dine :) At Pingoo restaurant, you can dine-in while watching penguins! You will find many restaurants line up at the underground tunnel that connects Neo Soho Mall and Central Park Mall. 
On that note, sightseeing Jakarta in one day ends. I hope these two itineraries give you ideas for sightseeing in Jakarta. Need more ideas? Read more things to do in Jakarta here...
Oct 03, 22 04:34 AM

Kawasan Wisata Punclut, the Sarae Hills, the best place to enjoy the amazing view of Bandung at Puncak Ciumbuleuit, a.k.a. the Punclut Bandung!

Sep 14, 22 01:15 AM

Stroll around the gorgeous park of WOW Sarae Hills Bandung and take pictures with world-famous landmarks! It feels like going around the world in one day!

Aug 31, 22 07:33 AM

A God sent to earth to find his true love, a princess exiled to the woods... But what a langur has to do in the legend of Lutung Kasarung?