Museum Bank Mandiri
at District Museum in Kota Tua Jakarta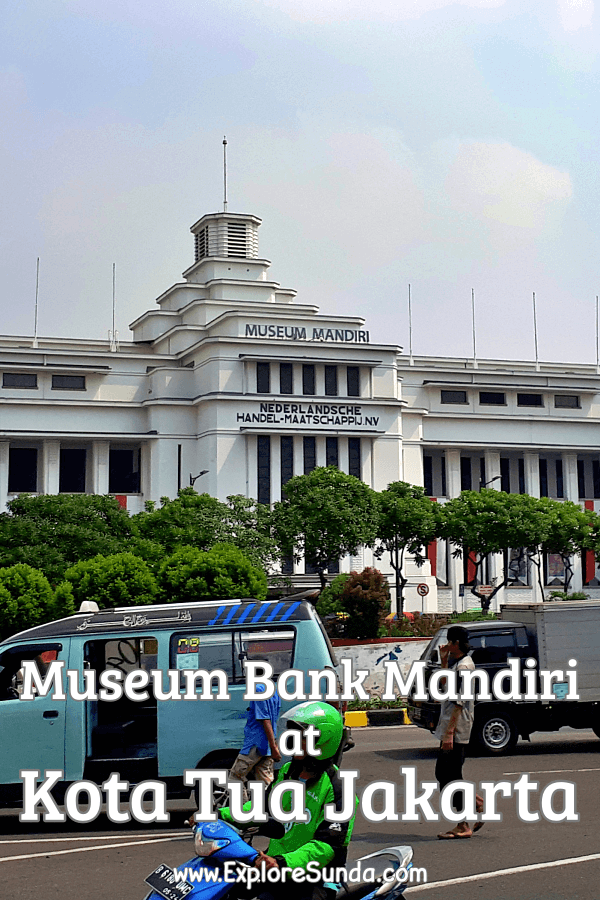 When you visit Kota Tua Jakarta, there is a big chance that Museum Bank Mandiri will be the first thing you will see, especially if you use public transportations such as Trans Jakarta bus or Commuter Line trains, because the museum is located right across Jakarta Kota train station. Hence, once you are near the exit of the train station, which is across Museum Bank Mandiri, find an underbridge to cross the street. It is much easier and safer than trying to cross the street over so many impatient vehicles.
Similar to other museums in Kota Tua Jakarta, Museum Bank Mandiri occupies a restored old building. It used to be the office of NHM (Nederlandsche Handel-Maatschappij — the Netherlands Trading Company), the predecessor of Mandiri Bank. Hence, as soon as you enter the building, it looks like you are transported into a bank in the 1800s: the opulence and the grandeur of the interiors, thick teak woods all over the furnitures, beautiful stained glass on the stairs, even the elevator stand-by elegantly near the entrance.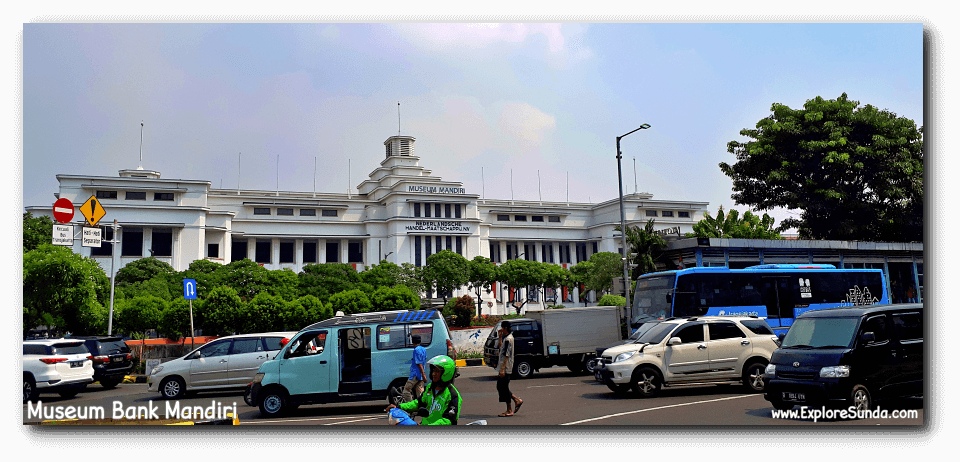 Unlike other museums, Museum Bank Mandiri has a route, starting with the lobby and teller booths, including the large cubicle of Chineesche Kast (Chinese teller in English) where the Indonesian Chinese worked, then you continue walking into the back office.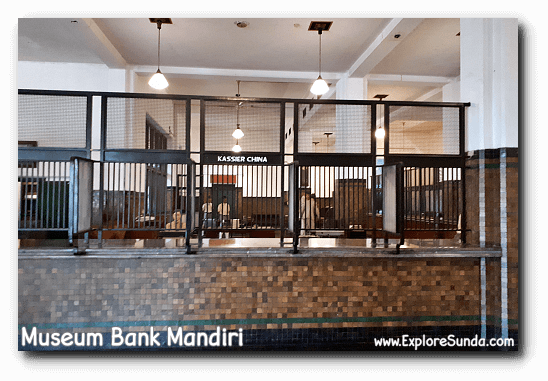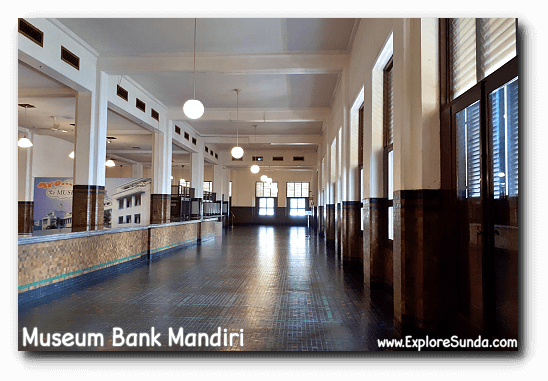 The display in the back office starts with piggy banks! Most of them are traditional ones made of terracotta in various shapes, such as chicken, tiger, and frog. 
Next display is the history of Mandiri Bank, which is told through posters and dioramas.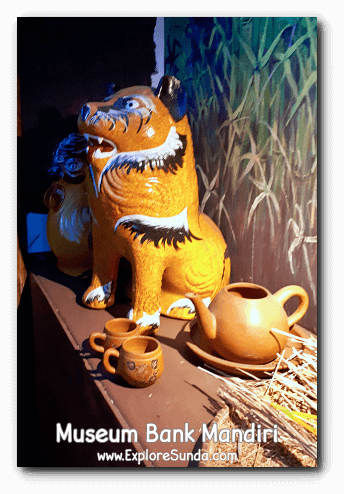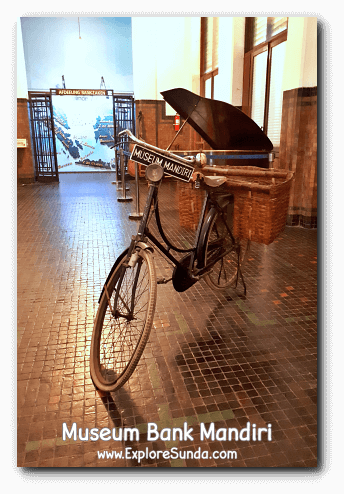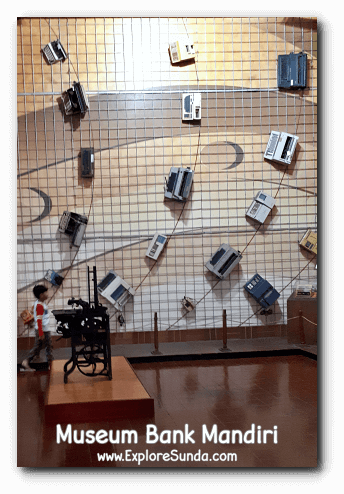 Finally, they display many kinds of the bank's instruments: checque books, machines to count the money, a machine to check fake money, and many more. These displays continue to the first room you enter, right behind the teller booth.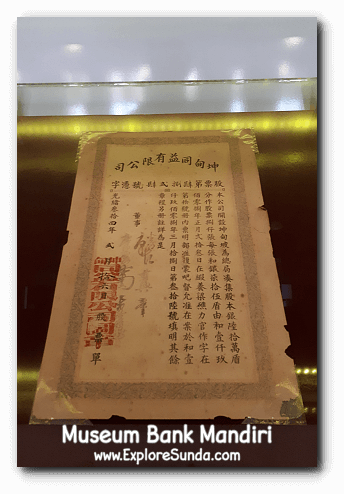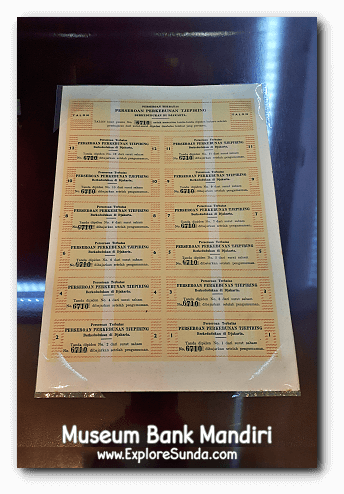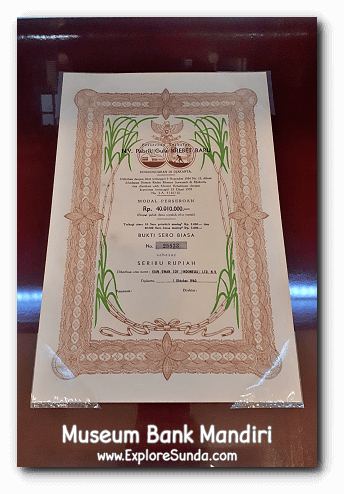 This area is special because Museum Bank Mandiri preserve this front office of the bank, so visitors can imagine how the daily activities rolled out. Museum Bank Mandiri has many classic typewriters, samples of checques, stocks, bonds and stamps issued during that time. One wall is decorated with lots of classic calculators including sempoa (the Chinese abacus).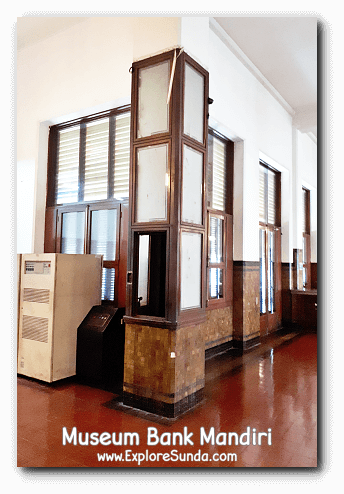 At a glance, it looks like a regular column to support the building, but if you take a closer look, it is a tiny elevator to transport documents between the two floors!

Another precious display is the NHM's ledger, famously known as 'Big Book' (Buku Besar in bahasa Indonesia, or Grote Book in Dutch). These books are literally huge, much bigger than the modern ledger, and they are all still handwritten in Dutch. Presently, the museum has 45 Big Books, one on display, while the remaining are kept in the special room called Bookhoeding.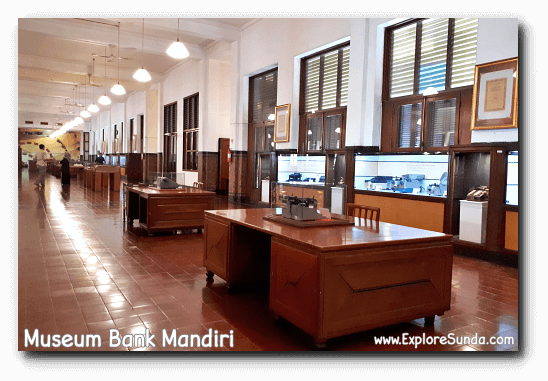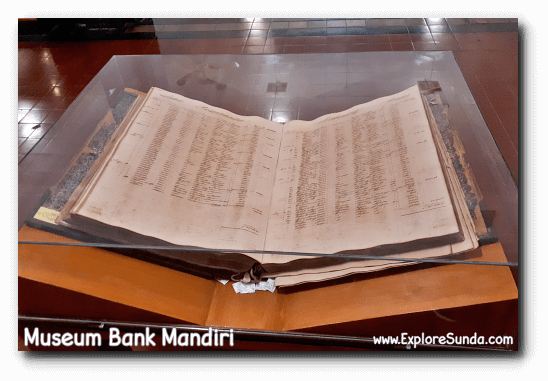 The Family Tree in Museum Bank Mandiri

Address:

Jl. Lapangan Stasiun No.1, Jakarta Barat
Opening Hours:

Tue-Sun: 09.00-15.30
Fri closed at 11.30-13.00
Closed on Mondays and national holidays.
Ticket:

Student: Rp.2,000
Adult: Rp. 5,000
Foreigner: Rp. 10,000
This museum has at least two posters showing the family tree of Mandiri Bank. It shows how those predecessors played important roles and how the history shaped Mandiri Bank to become the largest state-owned bank in Indonesia.
The history started with the introduction to Cornelis de Houtman, a Dutch trader who in 1595 led the first voyage to East India and reached Indonesia a year later. From there the history continued to the establishment and the end of VOC (Vereenigde Oostindische Compagnie, or Dutch East India Company in English). In between it described how VOC pushed Indonesian to provide the precious commodities, which resulted in many wars between Indonesian and VOC. 
VOC was replaced with NHM (Nederlandsche Handel-Maatschappij or Netherlands Trading Society in English) in 1826. NHM was a Dutch trading company, taking care of the shipment and export of Indonesian commodities. It was nationalized in 1960 and became Exim Bank.
Similar to NHM, NIHB (Nederlandsche Indische Handelsbank) was first established in Netherland and then opened its Batavia branch in 1864. It was nationalized and became Bank Bumi Daya.
On the other hand, NIEM (Nederlandsch-Indische Escompto Maatschappij) was established in Batavia. Later on it changed its name to Escomptobank NV. This bank was nationalized in 1960 and became Bank Dagang Negara (BDN).
The next two banks were established by Indonesian government: Bank Industri Negara (BIN) and Bank Pembangunan Indonesia (BPI). In 1960 they were merged and became Bapindo (Bank Pembangunan Indonesia). 
When Indonesia was hit by the biggest monetary crisis in 1998, all of these banks were reconciled and merged into one: Mandiri Bank. 
So, that's hundred years of history compiled in one room :)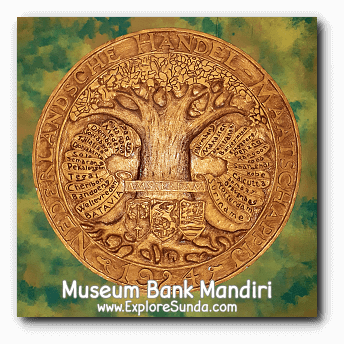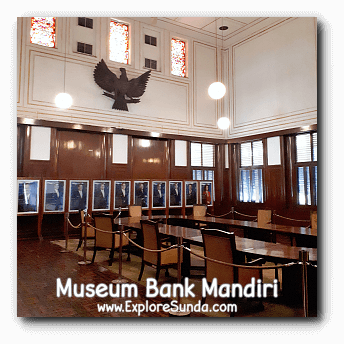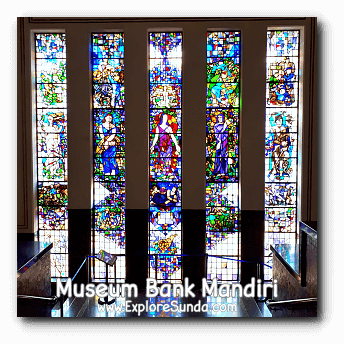 Although the bank was built on a 10,039 square meters of land, Museum Bank Mandiri only occupies small part of it, the front office as well as the meeting rooms in the second floor. Unfortunately, the second floor is too hot and stuffy. 
Heads-up when you walk up the stairs to second floor, there is a beautiful stained glass covering the front window. It was designed by the son of NHM's president director. It comprises five panels: four panels depicted the four seasons in Netherland: spring, summer, autumn and winter. But the middle panel illustrated how the Dutch appreciated the beauty of Indonesia and its people.
---
Museum Bank Mandiri is one of the six museums in Kota Tua Jakarta. Hence, this area is also popular as the District Museum. I recommend you to visit them all while you are in the neighborhood :)
Dec 04, 23 08:41 PM

Summarecon Mal Serpong: the favorite shopping mall in South Tangerang for the whole family to do shopping, pamper in beauty salons, learn to cook in a cooking studio, watch movies, and play in the arc…

Oct 26, 23 11:32 PM

A visit to Benteng Heritage Museum at the old town of Tangerang to see the history and culture of China Benteng.

Oct 13, 23 03:33 AM

Explore De Voyage Bogor, a new European theme garden for selfie and hang out. Take tons of beautiful pictures and join the activities :)