One Day Trip From Bandung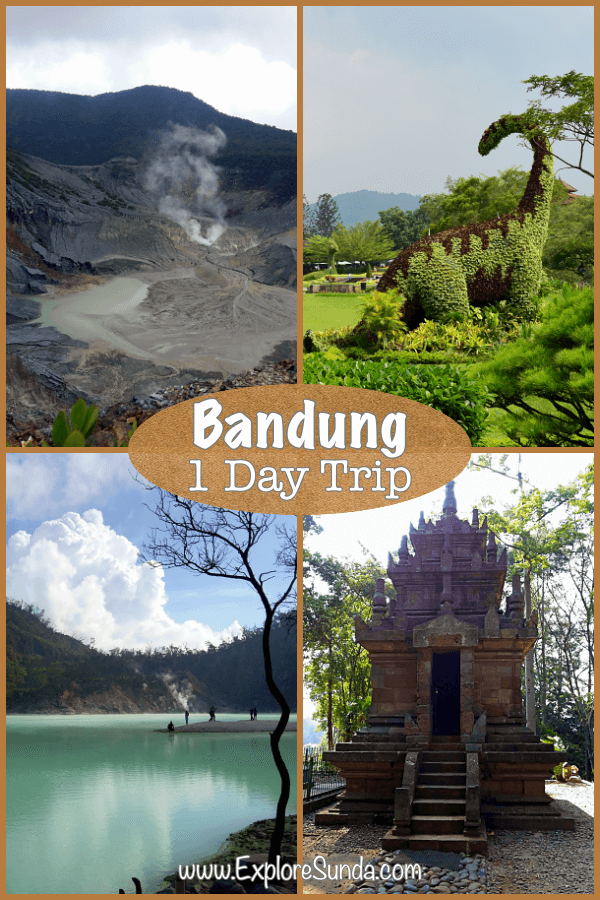 As a city, Bandung has a lot to offer its visitors. For example, learning angklung, visiting museums, shoppings, going to culinary adventure and tasting all the delicious dishes.
But, do you know that the towns surrounding Bandung also have plenty of attractions that will entertain the whole family? Most of them are outdoors. So, if you like outdoor activities, you should consider short trip to nearby towns such as Lembang, Ciwidey, Pangalengan, Cipanas, Garut, or Sumedang. The distance to each town is less than two hours drive during normal traffic.
1. Lembang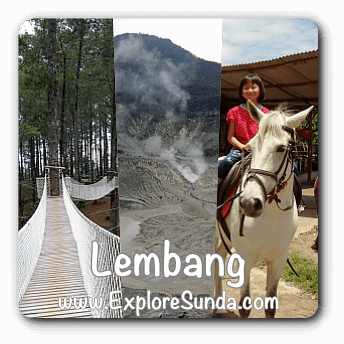 Lembang is a small town north of Bandung. The weather is much cooler since it is on the slope of Mount Tangkuban Perahu. This town is Bandung's no. 1 family vacation destinations due to its proximity and weather. There are lots of activities you can do here: horse or cart riding, hiking, ATV ride, flying fox, strawberry picking, swimming or spa in hot spring, visit  the caldera of still active volcano of mount Tangkuban Perahu, visit Maribaya and Cimahi falls, or go shopping flower and trees for your garden. 
Read more about Lembang ...
2. Ciwidey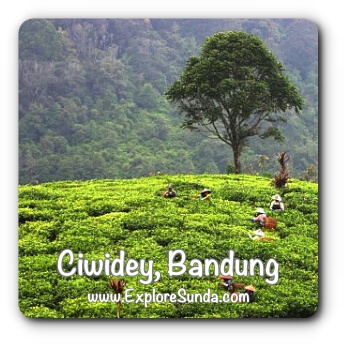 Ciwidey is a small town south of the city. Similar to Lembang, the weather is cooler since it is on the slope of Mount Patuha. Here you can visit Kawah Putih (White Caldera), Situ Patengan (Patengan Lake), Glamping Lakeside Rancabali, deer conservatory and camping ground of Ranca Upas, and immerse yourself in hot springs . Along the way to Situ Patenggang, you will see beautiful tea plantations that look like green carpet covering the hills. In addition, there are many self-picking strawberry farms to indulge your children.
Read more about Ciwidey ...
3. Pangalengan

Pangalengan is approximately one hour drive to the south. This town is a major milk producer in Sunda. Thus, you can find a lot of cow farms in this area.
Pangalengan has several interesting places to explore, such as the tea plantation at mount Wayang, a beautiful lake called Situ Cileunca, and a white water rafting at Palayangan river.

4. Cipanas to Puncak Pass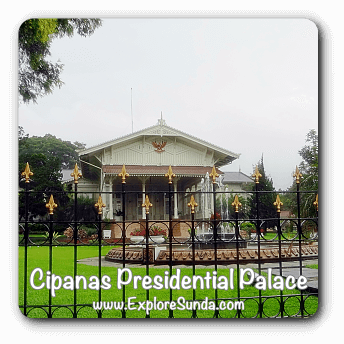 Cipanas is the entrance to Puncak Pass, if you come from Bandung. It approximately takes 2 hours drive. This town is located in the highlands, hence the weather is cool. No wonder it becomes one of the favorite places for weekend getaways from Jakarta, a home for Cipanas Presidential Palace, Cibodas botanical garden, a flower garden called Taman Bunga Nusantara and a major producer of vegetables and flowers. 
Going further to the north you will reach Puncak Pass and if you keep going then you will arrive at Taman Safari Indonesia.
Continue reading Puncak Pass ...
5. Garut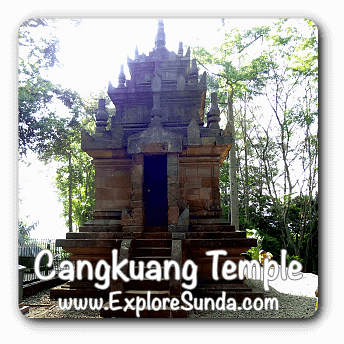 Garut is less than two hours drive from Bandung to south east. It has cool weather since it is a highland (700 meters above mean sea level) and surrounded by Mount Papandayan, Mount Cikuray, Mount Karacak, and Mount Guntur. The main family vacation destinations in this town is the hot spring in Cipanas, which is a suburb of Garut, instead of Cipanas in Puncak. Don't get confused, ci is a Sundanese word for water source, spring, or river and panas means hot, so several hot spring areas in Sunda have the same name: Cipanas.
Garut is also famous of being the hometown of Candi Cangkuang, the Hindu temple that laid on a tiny island surrounded by lake. You will cross the lake using bamboo rafts, what an adventure! 
Read more about Garut ...
6. Sumedang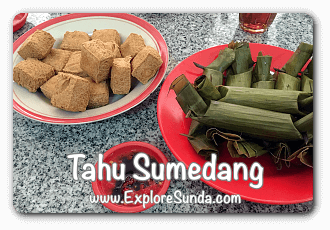 Sumedang is a transit town when people travel from Bandung to Cirebon in the north shore of Java. Nowadays the traffic is more bearable thanks to Cipali toll road connecting Jakarta and Bandung to Cirebon.
Sumedang is very famous for its delicious tofu.

Since Bandung is a highland surrounded by mountains, the areas we can go for a one day trip are typically other highlands. But, if you have more time, spend a night or two in southern beaches, such as Pangandaran, Ujung Genteng, and Umang island.
May 23, 23 04:28 AM

Planning to travel to Jakarta? Find the tips on traveling to Jakarta, getting around Jakarta, history, and frequently asked questions here ...

May 22, 23 11:28 PM

Get all the information on Jakarta airport train here: the train stations, how much the ticket cost, and how to buy tickets.

May 19, 23 03:36 AM

Get the best view of Malabar tea plantation, Situ Cileunca, and Pangalengan Bandung from Nimo Highland!