Travel to Jakarta by Train
Are you considering travel to Jakarta by train? A train is an enjoyable ride, and often it is faster than other ground transportations. Many people in Java use trains as their preferred mode of transportations. 
However, taking a long-distance train might be a bit confusing if you are not a frequent train traveler in Indonesia. So, I wrote this page to help you plan and enjoy your train travel to Jakarta: 
Ride a long-distance train to travel to Jakarta

The island of Java, where Jakarta is, has extensive train networks. Hence, you can easily travel to Jakarta or other cities in Java by train. The train tracks extend up to Banyuwangi at the tip of East Java. From there you can catch a ferry to Bali. 
However, traveling by train becomes less appealing due to the traveling time. For example, a train trip from Jakarta to Yogyakarta takes around 7.5 hours, more than 5 hours to Semarang, and 11.5 hours to Surabaya. On the other hand, flying from Jakarta to Surabaya is only 1.5 hours. 
That's not the case with closer destinations, though. A train trip from Jakarta to Cirebon or Bandung takes approximately 3 hours. You will use at least a similar amount of time to drive from Jakarta to Cirebon or from Jakarta to Bandung. Although flying takes only one hour, you need to count on the time it takes to travel to the airports on the outskirts of Jakarta and the check-in time in the airport. That's why the train trip from Jakarta to Bandung and Jakarta to Cirebon is a smash.
In the end, traveling by train is relaxing. You will pass scenic views that you will not be able to see from other ground transportations. Therefore, I recommend you take a morning train to enjoy the view. You even can hang out in the train restaurant and try some traditional food. If you take the late-night train, there is no view to see, the seat is not that comfortable for sleep in, and the night trains arrive at ungodly hours.

The long-distance train stations in Jakarta

When you use a long-distance train to travel to Jakarta, you will arrive either at Gambir train station (the code is GMR) or Pasar Senen train station (the code is PSE). 
While Pasar Senen train station maintains its heritage look from 1925, Gambir train station has a modern look with its green walls and train tracks on the second floor. The location of Gambir train station is on one side of the Monas (the National Monument, the famous landmark of Jakarta).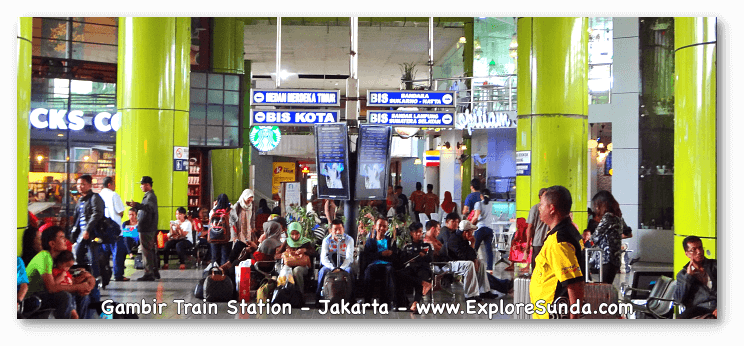 Gambir train station has several fast-food chains, toilets, waiting rooms, co-working space, and an elevator for disabled and senior citizens. 

The significant difference between Gambir and Pasar Senen train stations is the type of trains they serve. Pasar Senen train station serves the Business and Economy class trains. Meanwhile, Gambir train station serves the higher classes of trains, such as the Executive and Premium.
Besides the apparent price difference, the higher the class of the trains, the more comfortable you will be. For example, you will get sufficient legroom and individual reclining seats on the executive trains. 
On the other hand, every seat of the Economy and Business classes is one long seat for two persons. The Economy and Business trains also have more stops in the towns it passes through. 
Presently, all classes of trains are air-conditioned. It is such a relief from Indonesia's warm and humid weather. 
How to book and pay for a seat on the long-distance train

The simplest way to buy a train ticket is to buy directly at the train station, either Gambir (for the Executive or Premium trains) or Pasar Senen (for the Business or Economy trains). Presently, the tickets are sold three hours before departure. Hence, you might not get the seat you want, or worse, the tickets sell out.
As it happens, PT. KAI (the Indonesia train company) starts to sell tickets 90 days before the departure date. There are several options to buy it: 
You can book it online through the KAI website (https://kai.id) or its mobile apps, the KAI Access. The payments are either through credit cards issued by Indonesian banks or pay cash within 45 minutes after booking in the mini-market (Indomaret, Alfamart, or Alfa-Midi).
Buy train tickets at Indomaret, Alfamart, or Alfa-Midi stores. These stores are everywhere and open for long hours. You only need to ask the cashier to book it for you then pay it in cash.
Buy online through travel market sites, such as Traveloka and Tiket. However, it's a bit tricky to pay it with credit cards because they only accept credit cards issued by Indonesian banks. 
The next step is to exchange your train ticket with the train boarding pass. You do it at the train station where you depart, soonest seven days before your departure date.
If you book your train ticket through the KAI Access app, you only need to download the boarding pass. It will be available in the app two hours before your departure. You can directly scan the boarding pass on your smartphone to enter the train station. To be able to do this, you have to order the ticket through your KAI Access app. If you don't have credit cards issued by the Indonesian bank, choose payment through mini-market (Indomaret, Alfamart, or Alfa-Midi). Show the payment code to the cashier and pay it in cash. You'd better be near the store when you book your ticket because you only have 45 minutes to complete your payment.
Every passenger may carry up to four pieces of luggage with a total weight of 20 kg. Every train station has porters that are ready to help you carry your luggage. These porters wear uniforms, but they are not the employees of the train stations. Hence, there is no official fee for the porters, but in general, passengers pay Rp. 20,000 to Rp. 30,000.
Popular train schedules to travel to Jakarta
In general, trains in Indonesia are punctual. The economy and business trains take longer time because they have more stops than the executive trains. 
Below are some of the popular train schedules to travel to Jakarta in 2021. They are the schedules for Jakarta Bandung route, Jakarta Cirebon route, and Jakarta Yogyakarta route. They are less frequent than it used to be, due to the COVID-19 pandemic.
Travel to Jakarta: Jakarta Bandung train schedules

Travel to Jakarta: Jakarta Cirebon train schedule

Travel to Jakarta: Jakarta Yogyakarta train schedule
Sep 22, 23 01:49 AM

Explore Eco Green Park in Batu, East Java. Have fun family vacation surrounded by colorful and exotic birds, while learning ecology and green living.

Sep 18, 23 04:59 AM

Have fun in Jawa Timur Park 2, where you explore Batu Secret Zoo, Museum Satwa, join thrilling rides at Happy Land and play in the Fantasy Land waterpark, all in one place :)

Sep 12, 23 06:26 AM

Explore many interesting places outside the land of Sunda, mainly tourist destinations in Central Java, Yogyakarta, and East Java.