Getting Around Jakarta
The Easiest & Convenient Ways
So, you have arrived in Jakarta and ready to explore the city by yourself. How are you getting around Jakarta? Don't worry; it is easy. Here are eight public transportations you can use to explore the city. Switch from one to another, and you might beat the infamous Jakarta traffic :)
The most popular public transportations for getting around Jakarta are:
1. Car rental
2. Taxi
3. Ride-hailing app: Gojek & Grab 
4. Commuter Line and airport train
6. Jakarta Explorer, the free city tour bus
7. MRT
8. LRT
and one travel tip on how to pay for Jakarta's public transportations tickets.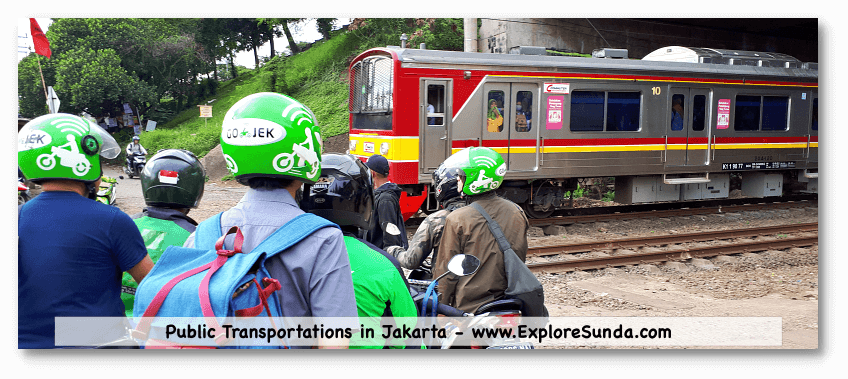 1. Car Rental

Most of the car rental in Jakarta includes a driver. Ideally, the driver will pick you up at your hotel. You tell him where to go, and he will take you there without any hassle. You don't have to worry about how to go to your destinations. Unfortunately, Jakarta's traffic is unpredictable. Often, bad traffic is inevitable, especially during rush hours.
Nevertheless, a car rental is still a good option if you want to travel to the outskirts of Jakarta or take a day trip to places of interest outside Jakarta. You might save a lot of traveling time.
2. Take a taxi

The second option in getting around Jakarta is to grab a taxi. Of all the multiple brands of taxis in Jakarta, I recommend Blue Bird because they are the safest taxi in Indonesia. They have several brands within the group: Golden Bird, Silver Bird, Blue Bird, and Pusaka taxi. Please note, I don't have any affiliation to the Blue Bird group.
The tariff of the regular taxi is Rp.4,350/km. An additional fee applies when you take a taxi from the airport.
3. Use ride-hailing apps.

In addition to the regular taxis, you also can use ride-hailing apps, namely Gojek and Grab. First, download the apps from the app store or play store. After some simple registrations, you are good to order a ride!
The benefits using these apps are: 
You can order a car or a motorcycle. If you are a solo traveler, it is easier to beat Jakarta traffic with a bike :)
You will know the cost in advance.
Lastly, you can order a Bluebird taxi from the Gojek app. Since you know the cost before you order, you can compare between them and then decide.
4. Commuter Line and Airport Train

Jakarta has a train network that connects it to the nearby towns. It is very crowded during rush hours because many people commute to work in Jakarta. However, during non-peak hours, it is a decent, cheap, and faster ride than other ground transportations.
Read where and how to board this Commuter Line train ...
If you take a flight to Jakarta, you can take an airport train, namely the Soekarno-Hatta Airport Railink. It connects SHIA airport to downtown Jakarta. Its last station is at Manggarai. Although the Rp.100,000 (approximately USD.7) ticket is expensive (compared with the Commuter Line ticket), taking this airport train is faster than a taxi.  
Find out more about Jakarta Airport Train here ...

5. Getting around Jakarta with TransJakarta Bus

TransJakarta (shortened as TJ or Tije) has many routes all over Greater Jakarta. In many streets in Jakarta, Trans Jakarta buses ride through dedicated bus lanes. Supposedly, you will not get into a traffic jam when you use TransJakarta buses. The ticket is only Rp. 3,500/trip. However, the further you are from downtown, the fewer Tije bus you will see. So, the TransJakarta bus is ideal when you want to go around the main streets of Jakarta. Plus, several bus stations are side by side with the MRT stations and Commuter Line train stations.
6. Jakarta Explorer, the free city tour bus

These city tour buses are the only double-decker buses in Jakarta. They stop at several predestined bust stops. You can hop off, explore the area, then hop on the next bus :) 
There are six routes you can choose from, and they are all free! 
One of the bus stations of these double-decker buses is in front of the National Museum of Indonesia, a.k.a. Museum Gajah [the Elephant Museum in English]. 
7. Getting around Jakarta with MRT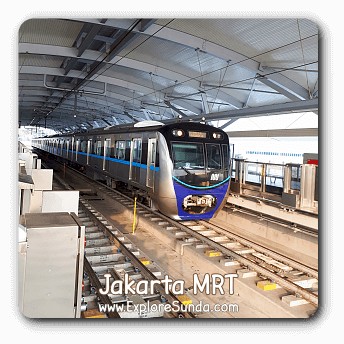 The MRT in Jakarta is still in its first phase, which starts from Lebak Bulus in South Jakarta to Bundaran HI in Central Jakarta. This route has 13 MRT stations. Six of them are underground, while the rest are overpasses above the streets.
Continue reading getting around Jakarta with MRT ...
8. Jakarta Light Rapid Transit (LRT)

The LRT is still in its first phase. Presently, it only serves Kelapa Gading and Velodrome Jakarta, which is less than 6 kilometers.
How to pay for Jakarta's public transportations tickets

The TransJakarta Bus, Commuter Line train, MRT, LRT, and airport train use e-ticketing. It means you need a prepaid electronic card issued by several leading Indonesian banks to pay for the ticket. These cards are BRIZZI, Flazz, Tapcash, e-money and Indomaret Card. You can buy them directly from the customer service in the corresponding banks. Often, they also have a booth in shopping malls or train stations. You can top up there. However, the more convenient option is to go to the mini-markets, either Indomaret or Alfamart, and top up your card at the cashier. It is convenient because you can easily find these mini-markets everywhere you go.

When you take Commuter Line train or MRT, you can buy their cards in the stations. However, these cards are only valid for their respective mode of transportations.

So, you have a prepaid electronic card and ready to explore Jakarta by yourself. The next step is to tap in the card on the turnstile gate when you enter the station, catch your transport of choice, then tap out when you exit at your designated station. Make sure you have sufficient balance. However, if you only change the bus within the same station, don't tap out. The same thing applies to MRT and Commuter Line train. You only tap out when you are sure to exit the station.
Now you know how to getting around Jakarta, it's time to visit so many interesting places in Jakarta. Check out these attractive things to do in Jakarta!
Mar 14, 23 05:14 AM

Explore Mount Tangkuban Perahu in Cikole Lembang, Bandung. Easy access to see Kawah Ratu and a hike to Domas crater for a mud spa and boiling eggs!

Feb 27, 23 12:25 AM

Don't miss the opportunity to check out what's inside Bosscha, the one and only astronomical observatory in Indonesia! Find the schedule of guided tour here.

Feb 21, 23 01:37 AM

Where to go in Lembang? Amazingly, for a town so small, Lembang has many places of interest, from still-active craters to many beautiful parks. Check out our list of things to do in Lembang here.