Getting around Jakarta 
Cheap, Punctual, and Fast with Commuter Line

Getting around Jakarta is easy. There are various ground transportations to cater to your needs. One of them is the commuter train.
The Greater Jakarta area has the most extensive commuter rail system in Indonesia. It started in April 1925, when the Dutch launched the first electrified train in Indonesia. This first route connected Tanjungpriok and Meester Cornelis (Jatinegara now). Today it is still a bustling route.
We call it KRL, an abbreviation from Kereta Rel Listrik. It is simply Indonesian words for the electric railcar. Although, there are some diesel trains used in this network too.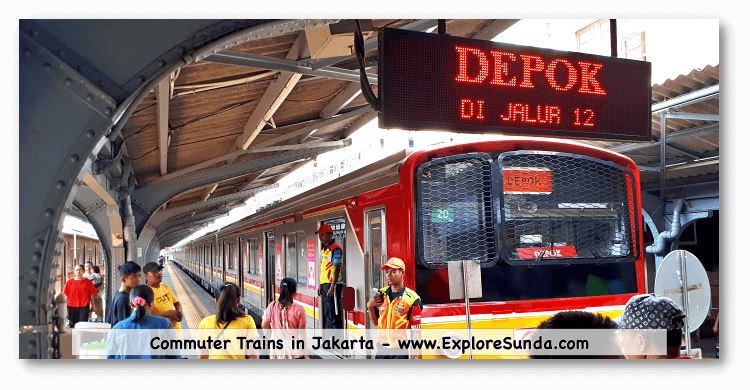 Modernization of Jakarta's commuter rail resulted in twelve railcars in one train, all air-conditioned with more comfortable seatings. There is a ladies' car (only women can get on this railcar) at the end of the set. You will not miss the pink railcar :)
Not only modernization on the trains, but the train stations are improved too. There are mini-markets (Indomaret and Alfamart), washrooms, and several eateries. All commuter rail stations use E-ticketing instead of paper tickets. 
Getting around Jakarta with Commuter Line trains

In 2021, there are 80 train stations and 1,196 units of trains used in Greater Jakarta (Indonesian calls this area as Jabodetabek, an abbreviation from Jakarta Bogor Depok, Tangerang, Bekasi).
The extensive networks of the Jakarta commuter rail help many commuters getting around Jakarta in a timely manner. Yes, they are very crowded during rush hours. However, the cars are quite comfortable after eight in the morning. 
Jakarta's Commuter Line consists of seven lines. They are:
The Red Line (Central Line)

, a 54.8 km route that starts from Bogor to Depok to Manggarai, ends at Jakarta Kota then returns to Bogor.

The Yellow Line (Loop Line)

, a 66.8 km route that starts from Bogor to Depok to Tanah Abang to Pasar Senen, ends at Jatinegara train station then returns to Bogor.

The Brown Line (Tangerang Line)

 is a 19.3 km route. The train serves between Tangerang and Duri.

The Pink Line (Tanjung Priok Line)

, an 8 km route that starts from Tanjung Priok to Kampung Bandan, ends at Jakarta Kota then returns to Tanjung Priok.

The Blue Line (Cikarang Line)

, a 43 km route that starts from Cikarang, passes through Bekasi, Jatinegara, Manggarai and ends at Jakarta Kota. Then it returns to Cikarang.

The Light Green Line (Rangkasbitung Line)

, a 72.8 km route that starts from Rangkasbitung, passes through Maja, Parung Panjang, Serpong and ends at Tanah Abang. Then it returns to Rangkasbitung.

The Dark Green Line

, a 67.4 km route between Rangkasbitung and Merak served by a diesel train.  
There are many tourist destinations you might want to visit near every station. For example, if you get off at Jakarta Kota station, a.k.a. Beos, you will arrive at Jakarta's old town. It is a great place to learn the history of Jakarta with lots of preserved historical buildings. It is where Jakarta's District Museum is.

On the other hand, the Tanah Abang train station is in the middle of the bustling Tanah Abang shopping center. It sells many types of garments, both for wholesale and retail.
Since Jakarta commuter rail extends to Jabodetabek (Greater Jakarta area), it is handy in getting around Jakarta and its satellite cities. The commuter rail networks are extensive; from Cikarang and Bekasi in the east to Bogor in the south, to Rangkasbitung in the west. You can change to the diesel train that connects Rangkasbitung to Merak. From Merak, you can take a ferry, cross the Sunda Strait, and arrive at Sumatera.
The red and yellow lines are the two lines that start and end in Bogor. They are very popular among people who want to explore Bogor. It takes approximately 1.5 hours for the red line to covers 54 kilometers between Jakarta Kota station and Bogor train station. The first train leaves Jakarta Kota at 05.43 in the morning and arrives in Bogor at 07.19 AM.  
You can check the complete schedule of the commuter trains at the KCI website (www.krl.co.id) or download its mobile app, the KRL Access.
How to buy Commuter Line tickets

When you are getting around Jakarta with the Commuter Trains, you can only use E-ticketing to pay the fare. It is easy to use. You only need to tap a prepaid card on the turnstile gate to enter any train station. When you have arrived at your destination, you tap it again on the turnstile gate on your way out. Just make sure you have sufficient balance to pay the fare on the card. In 2021, the most expensive ticket is only Rp.13,000 (~USD.0.87). This inexpensive fare and its punctuality despite Jakarta's traffic jam are the main reasons people love to ride commuter trains.
There are many types of prepaid cards you can use to pay the Commuter Line fare. KCI (the Commuter Line company) issues a multi-trip card. You pay Rp. 30,000 (Rp.20,000 for the card and Rp. 10,000 balance you can use to pay the train fares). You can top it up in the vending machine inside the train station or go to the ticket booths. However, you can only use this card to pay for the Commuter Line train fares.

That's why I prefer to use prepaid cards issued by Indonesian banks. We can use the prepaid cards to pay fares of Commuter Line trains, TransJakarta bus, MRT, toll roads, parking, merchandises in the stores, and meals in the restaurants and cafes. 
Presently, the most accepted prepaid cards issued by Mandiri Bank: eToll, eMoney, and Indomaret Card; followed by Flazz from BCA, BRIZZI from BRI, and TapCash from BNI. You can buy them in the customer service in the respective banks. Nowadays, you can find these banks in many shopping malls! You can buy the Indomaret Card at the many Indomaret stores scattered all over the city.
Topping up these cards is easy. You only need to walk up to the Indomaret, Alfamart, or Alfa-Midi cashiers and pay it with cash. The maximum top-up is Rp. 2 million, which you won't need that much money on this card. Please remember, no identity is attached to this card. So, anybody can use it. Once it is missing, you will lose all the money in it.

The first time you use the prepaid card to pay for the commuter train fare, you have to activate (synchronize) the card first. Just tap the card on a standing black box near the turnstile gate. If you can't find it, the securities will gladly show you where it is. You only need to do this once before the first ride. 
One last tip on getting around Jakarta with a commuter train: in many train stations, you might need to cross the rails to reach the other side of the platform. There is no other way around it, so please be careful. Security men guard every crossing, so to be safe, please follow his guidance.
Are you ready to explore Greater Jakarta with the Commuter Trains? Here are some popular places to see and do in Jakarta!

Sep 22, 23 01:49 AM

Explore Eco Green Park in Batu, East Java. Have fun family vacation surrounded by colorful and exotic birds, while learning ecology and green living.

Sep 18, 23 04:59 AM

Have fun in Jawa Timur Park 2, where you explore Batu Secret Zoo, Museum Satwa, join thrilling rides at Happy Land and play in the Fantasy Land waterpark, all in one place :)

Sep 12, 23 06:26 AM

Explore many interesting places outside the land of Sunda, mainly tourist destinations in Central Java, Yogyakarta, and East Java.