One Fine Day at WOW Sarae Hills
Ticket:
Entrance: Rp. 50,000
Golden Gate: Rp. 15,000
Opening Hours:
Mon-Fri: 10am-6pm
Sat-Sun: 9am-6pm
Public holiday: 9am-6pm
The ticket booth of Sarae Hills World of Wonders is on the lowest level of the parking building. It is easy to find this parking building by looking for Sudut Pandang restaurant, which occupies the top floor.
With tickets on hand, enter the gate and exchange your ticket for a cup of milk or tea. At this point, you have two options: one is to catch a free shuttle car to Arc de Triomphe or buy an additional ticket to cross the Golden Gate Bridge.
From this gate, you can only catch a glimpse of the site. Hence, the best way to see all of WOW Sarae Hills has to offer is by walking on the Golden Gate Bridge. Although the bridge is quite a distance from the ground, it is safe since everybody has to wear a safety belt, and the bridge is sturdy with high railings. Of course, it is not recommended for people with acrophobia.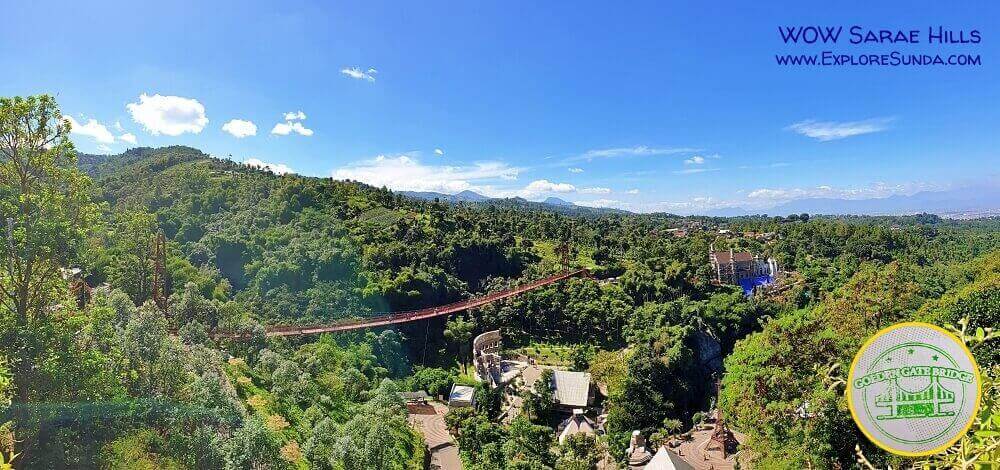 The Golden Gate Bridge at WOW Sarae Hills, it surely long and high above the ground :)
All things considered, walking on the Golden Gate Bridge is the best. After all, you will get a clear and spectacular view of the whole WOW Sarae Hills because the rest of the World of Wonders is in a valley below the bridge. On a clear day, you will see the view of Bandung in the distance.

With Golden Gate Bridge tickets on hand, you will be ushered to a small landing area to put on safety belts. Then you are free to cross the bridge. A staff stands by in the middle of the bridge to make sure safety and help you take group pictures :) One snag of the Golden Gate Bridge is how it abruptly ends at a set of steep stairs.
If you walk on the Golden Gate Bridge, your next World of Wonders is the Colosseum. Next are the mini pyramid, Sphinx, and Eiffel tower. Inside the pyramid is a photo studio. Friendly staff standing by in front of each landmark. They will happily help you take group pictures and stamp your Sarae Hills passport, so don't forget to get a small book called WOW passport when you buy tickets. You can get stamps of the Golden Gate Bridge, Colosseum, Eiffel Tower, Sphinx, Liberty statue, Santorini, and Arc de Triomphe. For me, collecting all of these cute stamps is just for fun. On the other hand, if you have enough stamps, you can use them to get some discounts at the souvenir shop.
WOW Sarae Hills is not just a place for selfies. You can do a bit of exploring too. For example, there are a couple of stairs on two of the Eiffel tower legs that you may climb. Of course, you must be careful because the stairs are steep and narrow. Another fun activity for children is riding a horse or buggy.
The next beautiful spot for taking pictures is the lotus pond in the center of Sarae Hills. Depending on your pose, you will get a stunning backdrop of the Santorini, Liberty statue, or Eiffel tower. On one side of this pond is Sarae Cliff; on the other is Amphitheater, where you can sit and take a break.
The beautiful lotus pond with Santorini and the statue of Liberty in the background.
Walking further are the Sarae Cliff, Santorini, and some famous statues, such as Liberty, Napoleon, and Neptune. There are some food stalls here to quench your hunger and thirst. More food with lots of varieties is available uphill in Kawasan Wisata Punclut, where you first enter the premises.

When you are ready to leave, just look for the Arc de Triomphe; that's where the shuttle cars are waiting to take you back to the entrance/exit gate.
All in all, it is fun to stroll in Sarae Hills World of Wonders. The landscape is gorgeous, with plenty of photo spots. Plus, the staff are friendly. However, due to its location on the hill, the ground is not flat, so you might need extra effort.
Sarae Hills is still expanding. When we, ExploreSunda.com, visited Sarae Hills in early July 2022, they were still building what looked like a castle. The location of this supposed castle is much higher than the rest of the landmarks.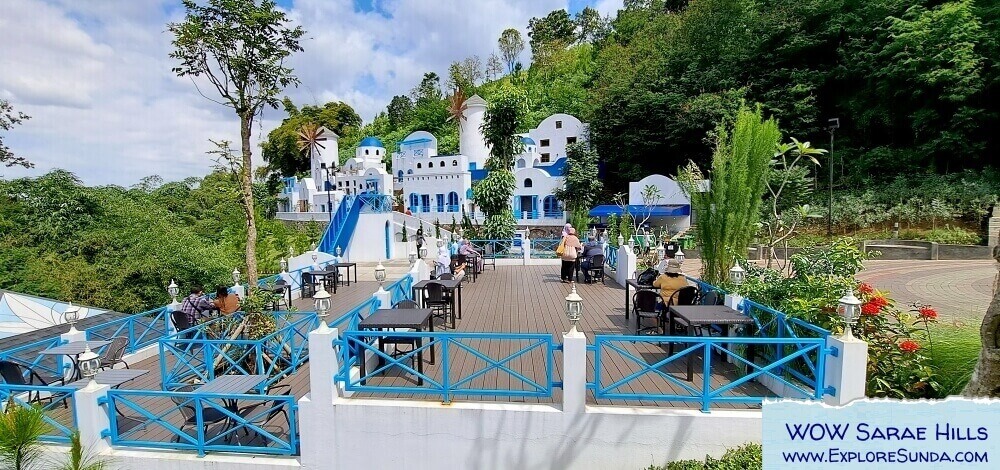 WOW Sarae Hills is bringing the famous Santorini to the mountain :)