D'Dieuland
Tickets:
Weekdays: Rp. 15,000
Weekends: Rp. 20,000
Opening Hours:
Weekdays: 10am-8pm
Weekends: 9am-9pm
D'Dieuland is a bit challenging to pronounce and even more difficult to understand the meaning since it is a combination of a couple of languages! While 'Land' is an English word, 'Dieu' is a Sundanese word for here, and D in the first character refers to 'the.'
D'Dieuland is more playgrounds than a restaurant. It has two playgrounds for children, the outdoor one almost at the bottom of the slope, which is closed at 6 pm. The indoor playground opens longer until 8 or 9 pm. Its giant swing is a favorite among adults. Its outbound course has several challenging obstacles, including a plank bridge and a flying fox. Between these games, there are plenty of places to hang out and dine in the shape of stilt shacks and jumbo swings with comfortable cushions. As you can imagine, there are many bridges and many more steps to reach each site.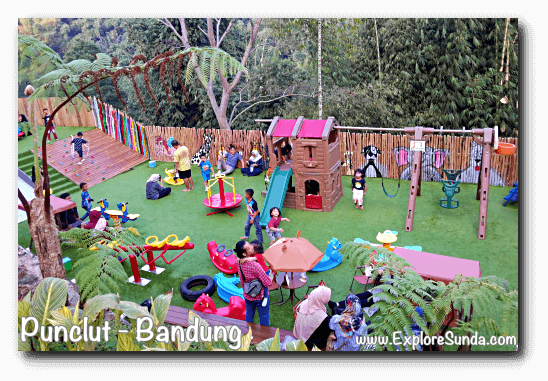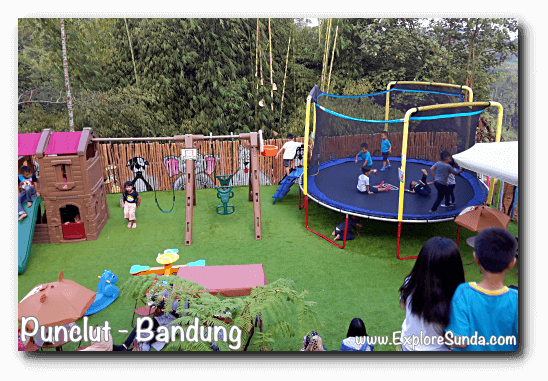 Cakrawala Sparkling Nature Restaurant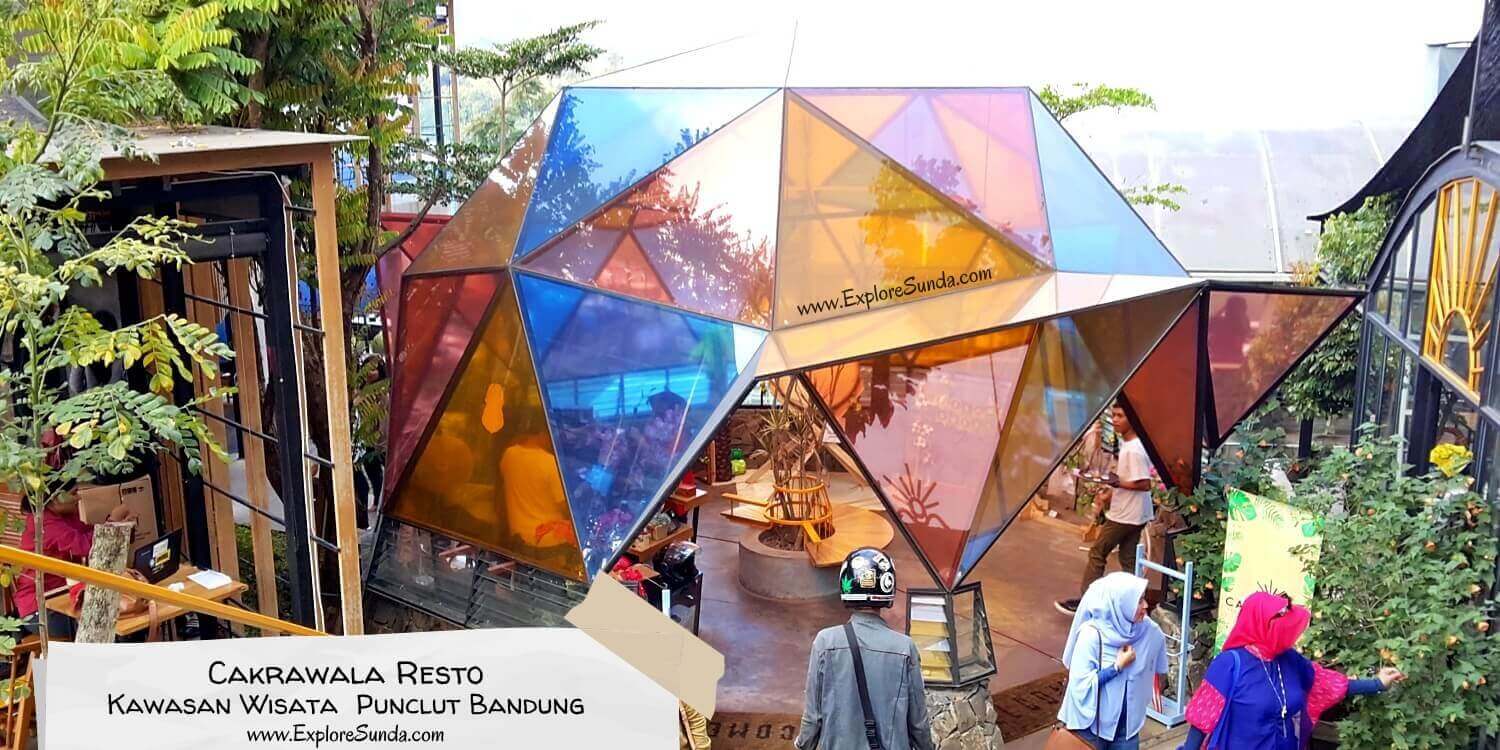 Opening Hours:
Weekdays: 10am-10pm
Weekends: 9am-10pm
Cakrawala is an Indonesian word for a horizon, which could be daytime or nighttime. So, there are two main areas in this restaurant. One has colorful glass on its roof that sparkles on a sunny day. The other area has a dark ceiling with lots of tiny holes, representing a galaxy at nighttime. It has plenty of indoor and outdoor seating. The most favorite photo spot in Cakrawala Resto is the skywalk. It is a glass platform where you can have the sky, Bandung in the distance, or Dago Bakery castle as your background photo.
Dago Bakery
Tickets:
Rp. 20,000
Opening Hours:
Weekdays: 9am-9pm
Weekends: 8am-10pm
Dago Bakery has a gorgeous castle at the back of the restaurant. Whether you dine in the restaurant or go inside to take pictures, you must pay an entrance fee of Rp. 20,000. You can exchange this ticket for any bakery products.
Inside, Dago Bakery at Punclut is a three-stories restaurant with indoor and outdoor seating and countless photo spots. The castle is still the prime photo spot in this restaurant. Other favorite photo spots are the small turret, starboard of a ship complete with its helm, a hobbit door, and murals on the dining room walls. The castle lights up with colorful lights from dusk until closing time. It is a beautiful sight to see, such as the one we imagine in the fairy tales :)
Dago Bakery serves local and international dishes, such as rice, noodles, pizza, pasta, many variants of light meals, and ice cream! Its bread and cookies in the bakery section are people's favorites too.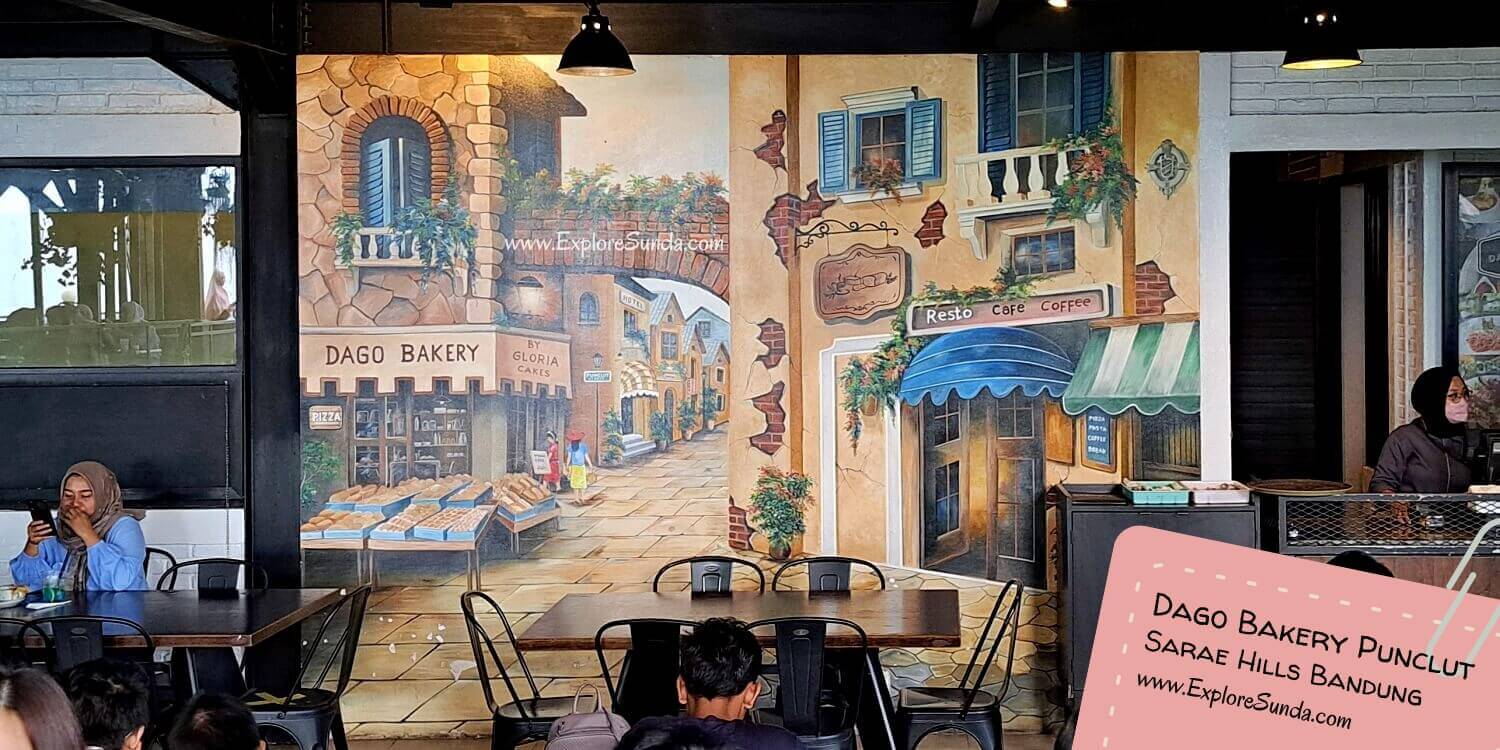 De Blank On
Opening Hours:
Daily: 9am-9pm
The name of this restaurant is another wordplay. At a glance, it looks like an English word, but if you read "Blank" and "On" as one word, it becomes "Blankon," which is a traditional Javanese hat.
De Blank On serves Javanese and Balinese cuisines, plus some dim sum. It has indoor and outdoor seating, but the open-air terrace is a preferred seating choice when the weather permits. The favorite photo spot in this restaurant is Candi Bentar (the split gateway entrance of a temple), with a view of Bandung as the background.
Lereng Anteng
Opening Hours:
Mon-Fri: 10am-8pm
Sat-Sun: 9am-9pm
Public Holiday: 9am-9pm
Lereng is an Indonesian word for slope, and anteng means calm. Many tables in this restaurant are on the terracing slope, with a view of Bandung in the distance. Lereng Anteng's menu ranges from rice to pasta, steak, and snacks. Of course, it has a variety of coffees too.
Tafso
Opening Hours:
Weekdays: 12pm-8pm
Weekends: 9am-9pm
Tafso serves coffee with a view, so you can guess it is a cafe, but the menu also lists some comfort food such as toast, fried rice, and noodles. It has various outside seating, a bit like bird cages. Of course, being in Sarae Hills, Tafso has plenty of instagrammable spots. In addition, Tafso Barn also has a small playground where you can feed fish, rabbits, and sheep.
Boda Barn
Opening Hours:
Weekdays: 9 am-9 pm
Weekend: 9am-9.30pm
Located at one corner of Kawasan Wisata Punclut, the front and the inside of the two-story Boda Barn looks like a barn. But, going outside through the side door is a different story. It suddenly transforms into a cute French cafe! That's why it is called Bodabarn de Provence. Don't worry about the menu; although it looks like a French cafe, Bodabarn serves Indonesian and Western food :)
Sudut Pandang Restaurant