Kawasan Wisata Punclut Bandung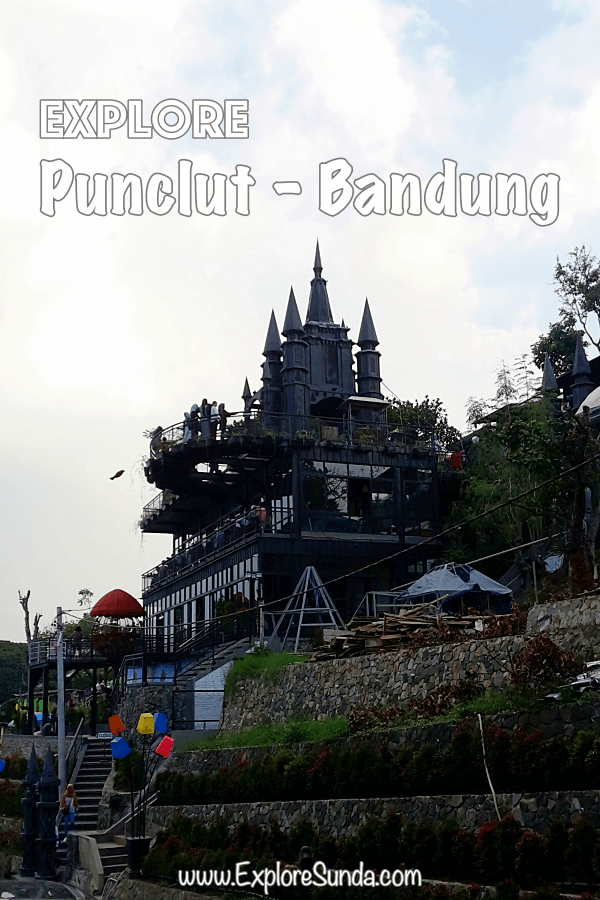 Puncak Ciumbuleuit, shortened as Punclut Bandung is known as a high place in the outskirt of Bandung where we can enjoy the panoramic view of the city. Recently, it has a new place to hang out named Kawasan Wisata Punclut, the Sarae Hills.
Sarae is a Sundanese word for good, fine, beautiful (in the plural form). So, Sarae Hills means a higher place (a hill) where you can see a beautiful view.
Since K-drama is very popular in Indonesia, some people mentioned that the pronunciation of Sarae Hills is similar to saranghae, the Korean word for I love you :)
Sarae Hills a.k.a. Kawasan Wisata Punclut Bandung consists of six restaurants on top of a cliff, half part of the restaurants are on the slope. Their menus range from local to western cuisines, from snacks to main course. They are:
D'Dieuland
Cakrawala Sparkling Nature Restaurant
Dago Bakery
De Blank On
Lereng Anteng
Tafso Barn
Basically, they are all restaurants. So, what makes them different?
If you think their names are unique, you must see their layout! It seems each tries to outdo the others. Of course each offers many different backdrops for our selfies :)
Restaurants in Kawasan Wisata Punclut Bandung
D'Dieuland

D'Dieuland is a bit difficult to pronounce and even more difficult to understand the meaning since it is a combination of a couple languages! Dieu is a Sundanese word for here and D in the first character is meant to replace 'the'.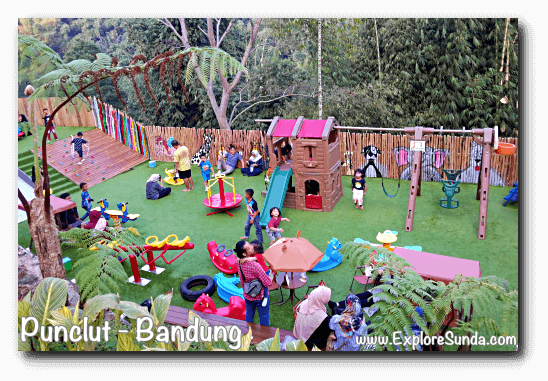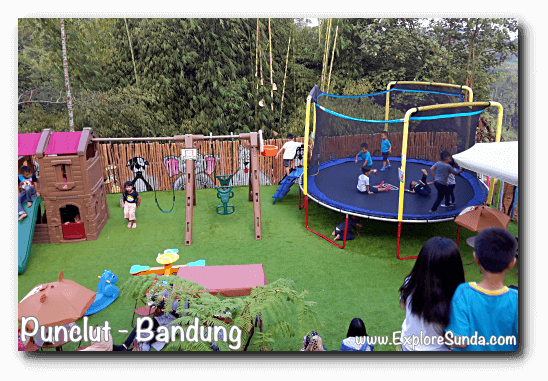 Anyway, this place has two playgrounds, the outdoor one almost at the bottom of the slope, which is closed at 6pm. The other one is indoor, which is closed when the restaurant closed. They also offer an outbound course, including walking on a plank bridge and flying fox. In between there are plenty of places to hang out and dine-in in the shape of stilt shacks and jumbo swings with comfortable cushions. As you can imagine, there are many bridges and many more steps to reach each site.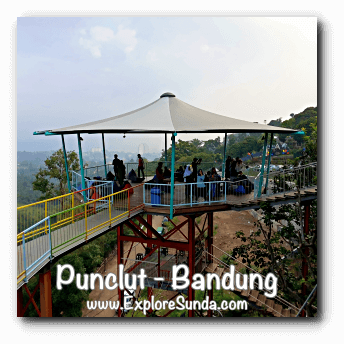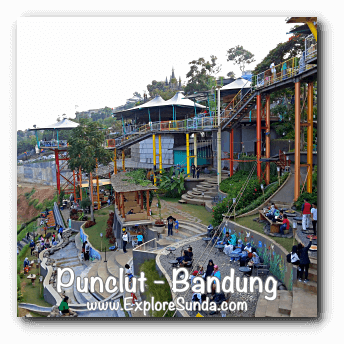 Cakrawala Sparkling Nature Restaurant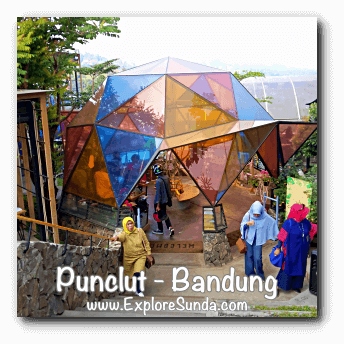 The second restaurant in Kawasan Wisata Punclut Bandung is Cakrawala.
Cakrawala is Indonesian word for a horizon, which could be daytime or nighttime. So, there are two main areas in this restaurant. One has colorful glass on its roof, which is sparkling when the sun shines on it. The other one has dark ceiling with lots of tiny holes, which represents a galaxy at nighttime. 

Dago Bakery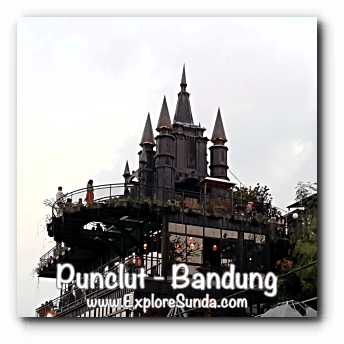 Dago Bakery has gorgeous castle at the back of the restaurant. Many people dine-in in this restaurant so they can have plenty of pictures in this castle. The castle lights up with colorful lights from dusk until closing time. It is a beautiful sight to see, such as the one we imagine in the fairy tales :)

De Blank On

The name of this restaurant is another word play. We can literally translate it from English or read it as blankon, which is a traditional Javanese hat. I believe the name refers to the latter, since most of the menu are Javanese cuisines. 

Lereng Anteng

Lereng is bahasa Indonesia for slope and anteng means calm. It reflected in the layout of the restaurant: tables set up on the terracing slope. Each table is protected with transparent tent, so we don't have to worry about any sudden rain.

Tafso Barn

As the name implies, the shape of the main restaurant of Tafso Barn is a barn. However, guests prefer to dine outdoors. Instead of a hut such as the ones at Sundanese restaurant, it has many small transparent tents. Some people said they look like bird cages, but personally I think they look like igloos. In addition, Tafso Barn also has a small playground and plenty of spots for selfies ;-)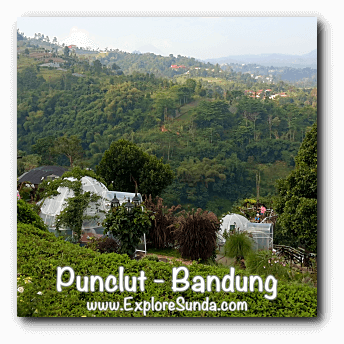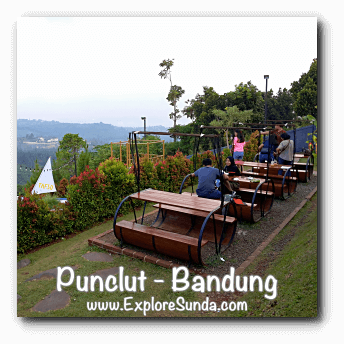 Since this place is located on a slope of a hill, walking up and down the hill as well as staircases are inevitable. So, it is not suitable for wheelchairs and strollers. Senior visitors might still enjoy the experience, although they will not be able to wander all the way down.

Directions to Punclut Bandung

Address:

Jalan Pagermaneuh no. 57, Bandung
GPS Coordinates:

6°50'34.0"S 107°37'21.0"E

Opening Hours:

9am-10pm Daily

Some people refers Punclut as Puncak Ciumbuleuit (peak of Ciumbuleuit). Perhaps because of its location, which is higher than Ciumbuleuit and the easiest access is through this street.
Speaking of Ciumbuleuit, I am sure non-Sundanese will have a hard time pronouncing it ;-) It might be one of the reason to shorten the name into Punclut.
Since there are few road signs to Punclut Bandung, it might be easier to turn on your GPS map. The GPS coordinate of Kawasan Wisata Punclut Bandung are 6°50'34.0"S 107°37'21.0"E (-6.842778, 107.622505).
Once you are at Ciumbuleuit street, just drive straight till the end. Then, turn left and pass a hospital. The road is getting smaller here, often it is difficult for two cars passing by smoothly. 
You just need to follow the road passing by several Sundanese restaurants on the right side of the road and continue straight until you reach Kawasan Wisata Punclut, the Sarae Hills. 
It is much easier to find it during daylight. Most of the road will be dark at night, with very few street lights. 
Do you know that Punclut connects Bandung with Lembang? The road is narrow, so I don't recommend you to drive through it at night. 
Speaking of Lembang, it has many great places for family vacations, you might like to explore :)
There are many beautiful highlands in the land of Sunda. The most favorite one is Puncak Pass, but Ciwidey Bandung has gorgeous view of lush tea plantation too. Lembang is the favorite highland near Bandung while Garut has lake, temple, and hot springs waterpark to explore.
Punclut (Puncak Ciumbuleuit)