A Visit to The 2019 Big Bad Wolf Book Sale in Bandung

Having visited Big Bad Wolf Jakarta, I can't help comparing them. Many things are very similar but there are differences too.
First of all, this event is free for public, i.e. the organizer doesn't charge any entrance fee. So, it feels like entering a huge book store :)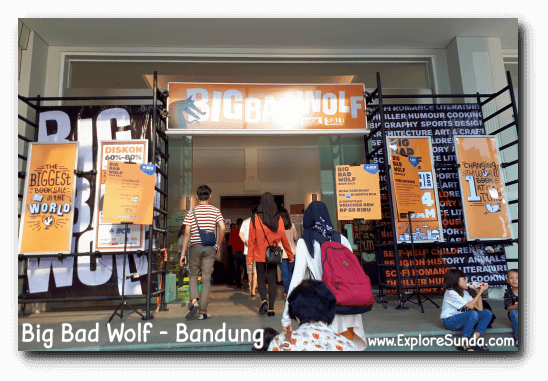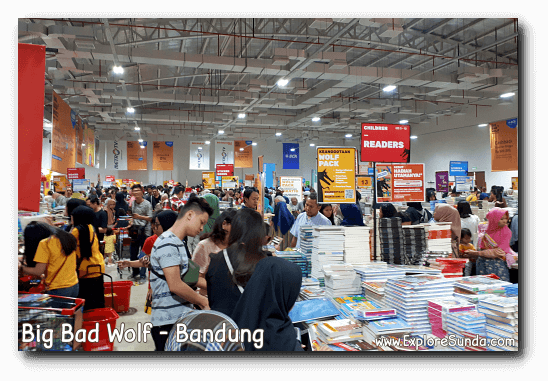 As usual, the majority of the books sold are English books. But unlike the first two of Big Bad Wolf, now they also offer books in bahasa Indonesia.

There are various kinds of books, from self help to children books, history, reference, graphic novels, cookery, photography, architecture and designs. So, they cover both fiction and non-fiction. However, what I notice is that over the years young children books such as board books, activity books, sticker books and simple story books dominated the children books section.
In order to make it easier for us to find books we like, each table has its own category. Then books are piled high on these tables. Usually, the books are neatly piled, each pile for one title and on top of the pile is the sample book, which is free for us to browse. But here in Big Bad Wolf Bandung the book piles on some tables are messy. It is difficult to just browse the books by looking at the piles.
When we first enter the venue, the room is much smaller than what we used to be in ICE, BSD. There are not much fiction books in this room, but all bahasa Indonesia books are here. 
If you don't find what you are looking for here, just move on to the next room. The map doesn't show it properly and the signs are only mentioning exit and cashiers. You will pass a corridor then you will see more books on the tables here. 
This section is dominated by fiction books, from young adults to mystery thriller. There are tables for children books too.
However, the total space used in Mason Pine Hotel is still much smaller than ICE, BSD. Hence, the titles offered are not as many as the one in Jakarta. They even store the unpack books on the lawn!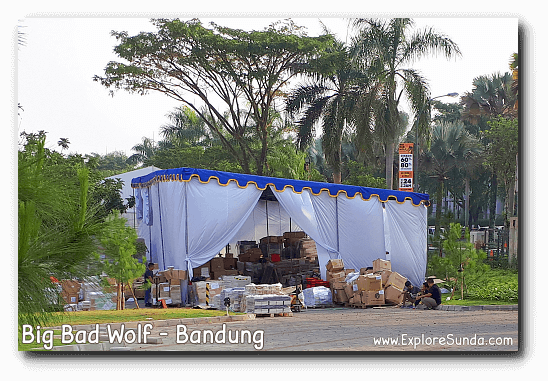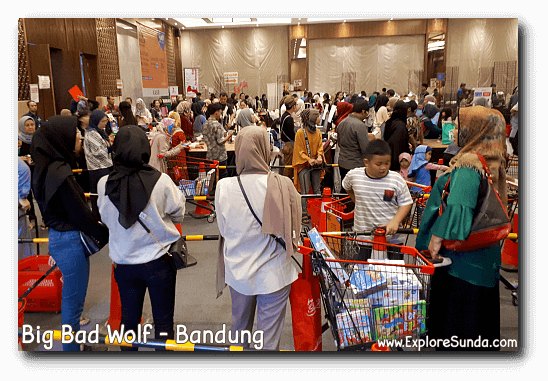 Finally, be prepared to queue for paying the books. Since Big Bad Wolf opens 24 hours, you might want to find best time for your visit, i.e. least customers so it is comfortable to find the books you like and short to no queue when paying. However, please consider your safety too. For example, when I visited Big Bad Wolf Bandung on Friday afternoon, the hotel parking lot was full, so I had to park on the street. Would you be comfortable to leave the car there at midnight and walk to the venue?
Big Bad Wolf Bandung also provides a foodcourt. However, it is located on the front yard of the hotel. So, you have to exit the venue first, i.e. completed the books payment, before you can take a break.
Despite all of these shorfalls (compared with Big Bad Wolf Jakarta), I believe a visit to Big Bad Wolf Bandung is still worth it, especially when you are looking for affordable English books. 
---
Bandung is very popular as family vacation destinations in Sunda. It offers many activities for the whole family. If you prefer outdoor activities, I recommend Lembang and Ciwidey, the best highlands near Bandung.