Things to Do in Nimo Highland
The first two things you will notice when you reach Nimo Highland are the vast parking lot and a big building, where you will find the ticket counters and a food court.
Nimo Highland has two centers of activities: the first one is on the tea plantation across the building, with horses standing by and parked ATVs. You need to buy separate tickets to ride them through the tea plantation.
Your ticket to the second activity center includes a shuttle car ride since it is still 400 meters up to the peak. Unfortunately, Nimo uses old public transportation in Pangalengan as the shuttle cars. Although the engines are in good condition, the bodies are peeling. Plus, it is difficult for senior citizens to access the high back door.
The shuttle car stop is approximately 100 meters from the entrance. So, another walk uphill is in order :) Once you reach the ticket boom-gate, you will see plenty of white walls with blue roofs to resemble Santorini in Greek. Too bad the stairs are steep and narrow, a bit difficult to walk through, especially in the crowds. But, these hassles are worth it when you have reached the edges of the platform to see the spectacular views of the Malabar tea plantation and Situ Cileunca.
The Santorini platform is not the only place to enjoy the scenery. The best place to see it is from the glass bridge. This U-shaped bridge is 150 meters long. Since the bridge is the highest structure in Nimo Highland, you can have an unobstructed view of the Malabar tea plantation, the surrounding mountains, and Situ Cileunca.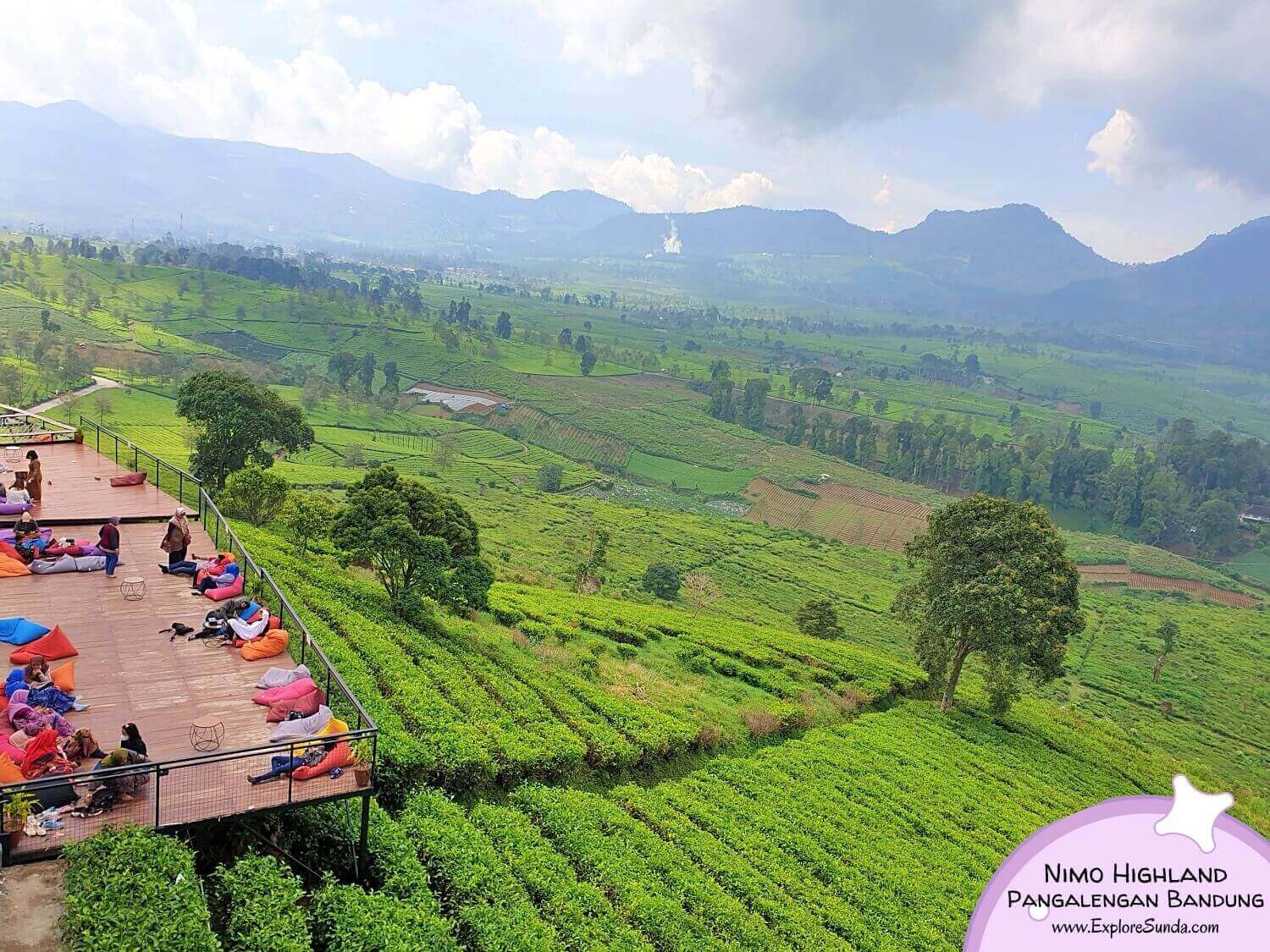 Lie down on wooden or rope platforms at Nimo Highland for a relaxing day.
Walking under the bridge, you will find wooden platforms decked with small tables and bean bags. In front of this platform is a row of food carts offering various menus, from comfort foods such as instant noodles to Soto (Indonesian soup), pasta, burger, and french fries. Or, you can lie down on platforms made of ropes. With the background of the tea plantation below, I bet your photos would look great!

Shady Cafe is another place to eat here. The location is a bit secluded, below the entrance and near the Indian tents. You can choose to eat inside these colorful tents; of course, the tents are good photo props too!
People mentioned that the sunset view from Nimo Highland is extraordinary. I guess it's because not every day you can have a clear sunset in Nimo. Fog falls daily almost without fail here. Often, it is already foggy before noon.
The only bothersome experience in Nimo Highland is dealing with so many flies. They are everywhere, not only around the food court but also in the Santorini area, where there isn't any food on the tables. The only place in Nimo Highland that is free from flies is high up on the bridge.