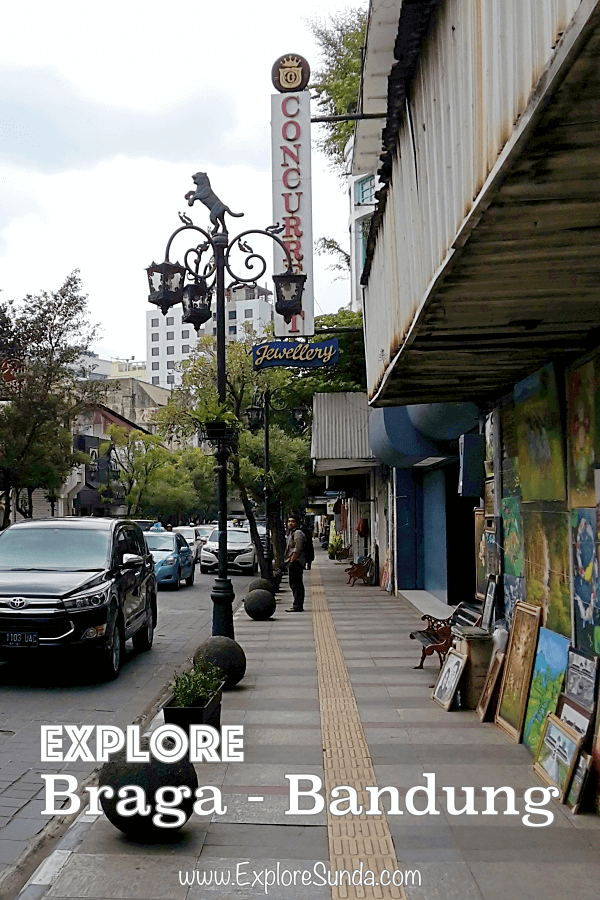 Once upon a time jalan Braga Bandung was the most prestigious street in the city. Bandung got its nickname as the Parijs van Java due to Braga street.
Originally Braga Bandung was called Karrenweg meaning cart trail, since it was used by many two-wheels carts pulled by buffalos to transport coffee to the postal road. When Bandung transformed into a town with many rich Preanger Planters lived nearby, Braga street became the center of the development.
It was the first shopping arcade in Bandung with lots of art deco buildings to admire, plenty of high quality shops and a prestigious cinema. 
Everything needed or wanted at that time, most likely could be bought at Braga Bandung. The first shop in the street was a firearm shop belonged to the Hellermann. There were several shops selling beautiful dresses as well as custom-made suits. There was a drama group that performed every weekend. A car showroom, a jewelry shop, a watch and clock shop, a few banks were all took part in Braga street.
People said that the golden days of Bandung as Parijs van Java was between 1920 and few years before World War II. What about Braga Bandung today?