What is Asstro Highland Ciater?

Asstro Highland Ciater is one of the Asep Stroberi chain restaurants (stroberi is a Sundanese word for strawberry, while Asep is the founder). Asstro restaurants are famous for serving delicious Sundanese food. The specialties menu includes nasi liwet and nasi timbel accompanied with fried or grilled gourami fish, chicken, and duck.
In downtown Lembang alone, there are two Asstro restaurants. But Asstro Highland Ciater is different because it is in the middle of the Subang tea plantation. Hence, here you will enjoy good food with clean highland air and a beautiful view of the tea plantation :) Although there are some tables on the first floor, the preferred seatings are on the second floor, where you can enjoy the view of the tea plantation, forests, and mountains.
Enjoy your walk around the tea bushes with plenty of beautiful photo spots at Asstro Highland Ciater, Lembang.
Look around the plantation; you will see that in addition to tea bushes, Asstro Highland planted lots of lemon trees, strawberries, and leeks. The gardeners said that they use them in the restaurant. As the name implies, strawberry is the iconic menu in every Asstro restaurant. You even can order strawberry chili sauce in Asstro!

Asstro Highland has two eateries: the main restaurant and Warung Abah Asstro near the glamping area. Warung is an Indonesian word for a small establishment similar to a shack; abah is a Sundanese word for father. Some traditional snacks sold in Warung Abah Asstro are Surabi (Sundanese pancake), colenak (grilled fermented cassava eaten with a sauce of palm sugar and shredded coconut), and grilled bread.
Things to do in Asstro Highland Ciater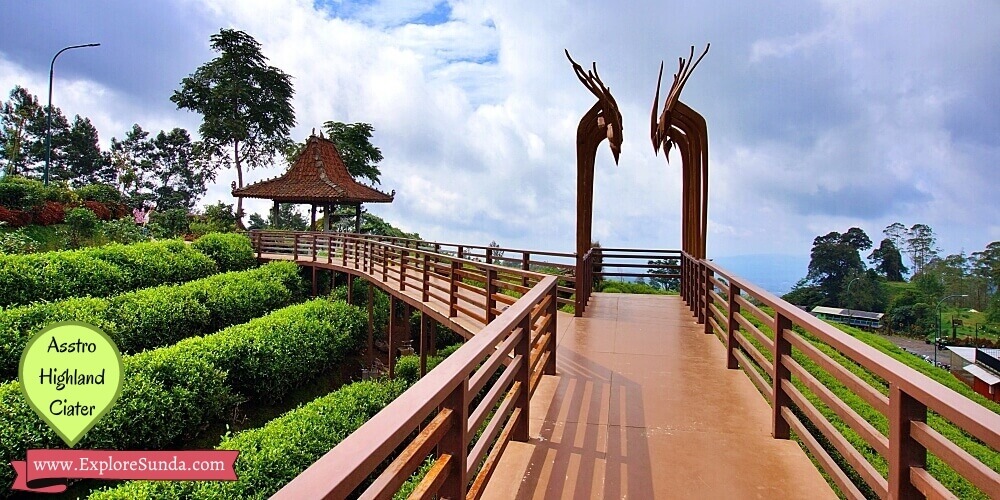 A wooden bridge to start your tea-walk at Asstro Highland Ciater, Lembang.
In June 2022, the ticket to walk around the tea plantation is Rp. 30,000/person. Asstro Highland provides several photo spots all around the area. For example, a platform that looks like a giant bird's nest, a couple of swings made of roots, and several tiny huts to relax. You also can pretend to be a tea picker by borrowing a bamboo basket and caping (a cone-shaped hat made of bamboo). It would be a fun exercise while taking as many pictures as you'd like :)
Most people, including me, like to take pictures on a fine day, with a clear blue sky and a green tea plantation rolling in the hills. But, if you come in the late afternoon, you might have an opportunity to take pictures with different angles and lighting since they will light up several areas at dusk.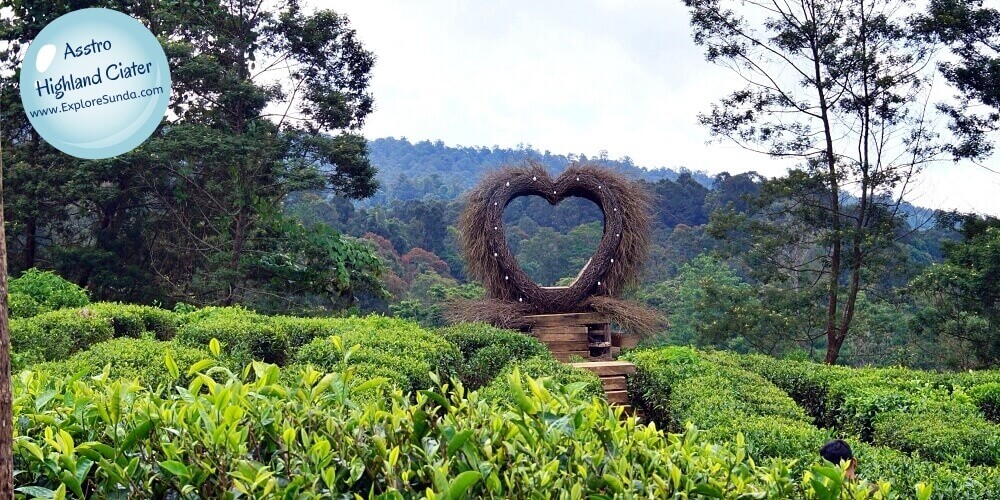 One of the many photo spots at Asstro Highland Ciater, Lembang.
Although the main path from the parking area to the glamping area is a smooth asphalt road, sometimes the walk is too much for some people with disability or senior citizens. In that case, you might want to rent a golf cart. Several golf carts complete with the driver are available in the parking lot. It is easy to spot them.

The golf cart ride is not the only ride in Asstro Highland. Similar to many places of interest in Lembang, Asstro Highland offers pony rides for children. For an additional fee of Rp. 40,000; children can go on one round of a pony ride.
Alternatively, you can take an off-road package that will start and finish in Asstro Highland Ciater. You will ride on an old Land Rover to Sukawarna and Cikole. It is a popular offroad route in Lembang. This package includes an entrance fee to the Asstro Highland. 
One final note: don't throw away your ticket! Exchange it with a cup of bajigur or bandrek. Both are Sundanese traditional drinks that are served hot. Bajigur is a drink made of ginger and palm sugar with shredded coconuts. Bandrek is a sweet drink made of coconut milk and palm sugar with kolang-kaling (palm fruit).
Asstro Highland Glamping

You also can spend a night or two in Asstro Highland Glamping. The glamping looks like a cottage instead of a tent, complete with an ensuite bathroom. They even have a two-story tent! But, if you want to experience real camping by sleeping in an ordinary tent, Asstro Highland offers that too.
There are several fire pits in front of these tents for you to have a bonfire during a chilly night. On that note, don't forget to bring warm clothes, because every night will be a cold night in Lembang!
Location of Asstro Highland Ciater

It is easy to reach Asstro Highland since the location is on Jalan Raya Subang. It is on the main road connecting Lembang to Subang in the north. It lies right next to the entrance of Mount Tangkuban Parahu. The GPS coordinates are 6°46'22.8"S 107°38'10.1"E (-6.772990, 107.636140).
Although they are practically next to each other, they have two completely different views. You will see active volcanoes surrounded by forest in Mount Tangkuban Perahu. On the other hand, you will eat and drink in the middle of a tea plantation in Asstro Highland Ciater. My recommendation would be to visit Mount Tangkuban Parahu in the morning; then have lunch at Asstro Highland Ciater. That would be a great way to spend your holiday!
No time to read now?

No worries! Save it on Pinterest for later :)

Asstro Highland is still expanding. During my visit in June 2022, I saw construction workers build several new glamping areas in the back. Plus, construction on a big platform near the glamping site, where we can have a clear view of the surrounding. Perhaps it will become a new cafe?