5 Tips to Fully Enjoy
Your Vacation in Puncak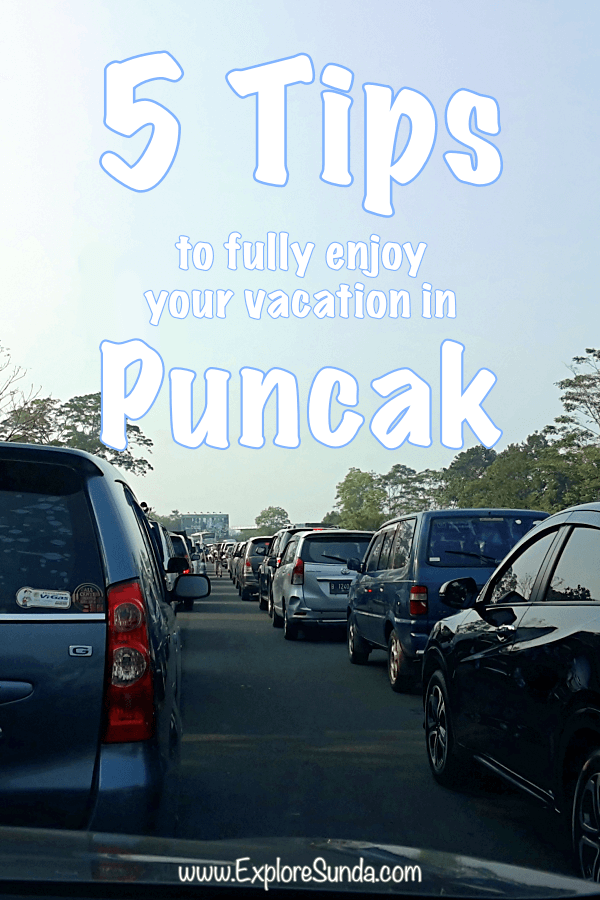 Who doesn't want to spend a holiday in Puncak Pass?
Its fresh air, cool weather, and great view lure thousands of people every weekend. But, the traffic from Jakarta to Puncak could be a nightmare. Cars often stuck for hours resulted in several kilometers queue on Jagorawi toll road.
So, let me tell you 5 tips to fully enjoy your holiday in this highland:

1. Avoid visiting Puncak on weekends. 
The peak time in Puncak is during weekends and holidays, such as school break (mid June to mid July and mid December to first week of January) and Ied Fitr holiday. So, if you really want to enjoy a quiet day here, come on weekdays. There won't be any queueing in the restaurants and in the attractions. But, it would be impossible for families with school-age kids. So, let's get going to the next tips.

2. Know the one-way schedule

Due to the very bad traffic jam during weekends, the police enforces one-way directions every Saturdays and Sundays, which is known as Jam Buka Tutup Puncak. So, knowing the schedule and the one-way direction will help you plan when is the right time to hit the road :) 
However, please note the regulation of one-way direction is only applicable:
between Ciawi crossroad and Gunung Mas tea plantation,
on Saturdays and Sundays.
The schedule of Jam Buka Tutup Puncak:

One-way from Jakarta to Puncak: 09.00-11.30
One-way from Puncak to Jakarta: 15.00-17.00
3. Start early 

So you know the one-way schedule, try to avoid it then by starting early. The goal is to pass Ciawi crossroad before one-way direction applies. As a bonus, many attractions open early in this area. So, by leaving early you will not stuck in traffic and can spend more time in your destination :)

4. Eat at non peak hours in favorite restaurants 

There are plenty of restaurants with delicious meals along the main street of Puncak Pass. Check out our list of recommended restaurant in Puncak here...
Usually we will have a hard time of getting parking spot and free table during the peak hours, not to mention long waiting for the ordered food. That's why you'd better avoid the peak hours of lunch and dinner rush. 
5. Bring sufficient snack and water in the car 

Last but not least, especially if you go with children, don't forget to bring sufficient snacks and drink water in the car. Yes, there are plenty of mini-markets along the road where we can buy them, but having them already available in the car is more convenient.
Some people might suggest to avoid the traffic jam by accessing the many alternative roads available in Puncak. However, there are so many alternative roads in Puncak, if you are not familiar with them you will easily get lost. You will see several road signs directing for the alternative road on the main road, but once you follow that first sign, you are on your own, there is no further sign to follow, the GPS signal is often scratchy, while the back road of Puncak looks like a labyrinth. So, I personally prefer to stick on the main road, especially after dark, since the alternative roads are too dark and narrow.
Now the travel to Puncak is covered, let's have some fun while we are there and check out these recommended attractions, restaurants and hotels.
Puncak Pass is not the only favorite vacation spot in the land of Sunda. Explore the beautiful beach of Ujung Genteng, city such as Bandung, the ancient Cangkuang temple in Garut, and the active volcano of Mount Tangkuban Perahu.
Dec 04, 23 08:41 PM

Summarecon Mal Serpong: the favorite shopping mall in South Tangerang for the whole family to do shopping, pamper in beauty salons, learn to cook in a cooking studio, watch movies, and play in the arc…

Oct 26, 23 11:32 PM

A visit to Benteng Heritage Museum at the old town of Tangerang to see the history and culture of China Benteng.

Oct 13, 23 03:33 AM

Explore De Voyage Bogor, a new European theme garden for selfie and hang out. Take tons of beautiful pictures and join the activities :)