Culinary Adventure
in Bandung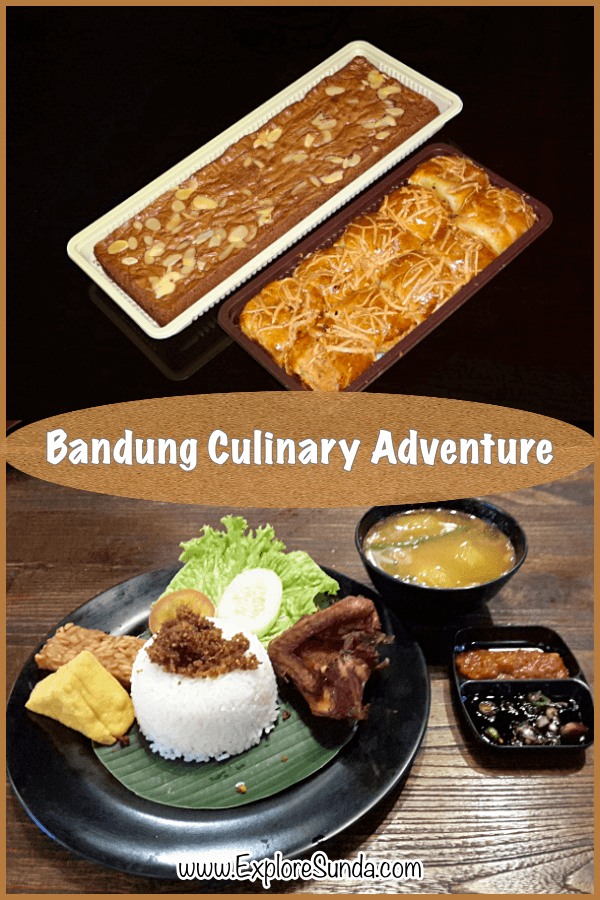 Bandung is famous for its culinary, both the traditional and the creative new ones. 
If you ask me the authentic food from Bandung, I would say the Sundanese dishes of Nasi Timbel (rice wrapped with banana leaves), fried or grilled chicken or fish, fried tofu and tempe, a small bowl of sour vegetable soup and lalapan (several types of fresh vegetables), all packed in one plate.
But then again, the city has grown tremendously. You can find all kind of dishes here. Western, Chinese, Japanese, Korean, Vietnamese, Malay, just name the few. Some are globally known establishments, such as KFC, mcDonald, Burger King, Carl's Jr., Pizza Hut, Dominos Pizza, and Starbucks. Others are branches of national restaurants, such as Duck King, Eaton, and Ta-Wan. The remaining are local, many are sold in small restaurants or food carts.
So, let's start our Culinary Adventure!
Jalan Braga
Jalan Braga is the oldest shopping arcade in this city. It is Bandung's old town. Nowadays, many shops were transformed into a bistro or coffee shop, but some restaurants were founded in the 1920's, during the  Dutch era. 
Find out more about culinary adventure on jalan Braga ...
Sundanese Restaurants in Bandung
Sindang Reret
Sindang Reret is a well known restaurant serving delicious Sundanese cuisines.  The one in Bandung is located on Surapati street, but we also can find it in Cikole Lembang and Ciwidey. 
Their specialties are gepuk (sliced seasoned fried beef) as well as the fried gourami fish. You also should try the dessert: Colenak. It is made of fried fermented cassava with sugar on top. It is very delicious :)
Ma Uneh
Perhaps this is the authentic restaurant from Bandung. It started in a narrow alley on Jalan Pajajaran, nowadays we can find it easily scattered around this city. However, some people say the original one does not open any branch.
Anyway, Ma Uneh serves various Sundanese dishes of chicken, fish, beef, and vegetables. Many also cooked as pepes (the seasoned ingredients are wrapped with banana leaves and then steamed until well cooked).
Jalan Kelenteng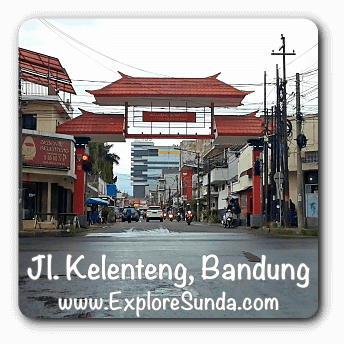 Jalan Kelenteng Bandung is known as the new Chinatown since there are several temples in this street. But in terms of culinary adventures, there are plenty of small restaurants and food carts offering various dishes. The newest one is the foodcourt named Chinatown.
Find out more about jalan Kelenteng ...
Punclut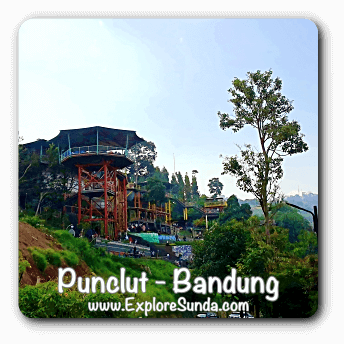 Punclut has always been popular as a place to view the whole city of Bandung. Hence, one by one small restaurants were established, each has a clear view of the city.
The new addition for culinary adventures as well as a creative place to hang out in Punclut is called Kawasan Wisata Punclut. While others only offers food and the view of the city, this place consists of 6 restaurants, each offers different menu, unique lay out for selfies, some even have children playground.
Find out what Kawasan Wisata Punclut has to offer ...
Paskal Hypersquare
Paskal Hypersquare is a huge complex near Bandung train station. It is full of shophouses,  many of them opened as small restaurants. The latest addition to this complex was  23Paskal shopping mall in the center. There are plenty of restaurants and a foodcourt inside this mall. Plus, there is a spacious open air foodcourt in front of the mall. So, you can imagine hundreds of dishes are offered here. They are vary from traditional food to globally franchised restaurants to the fine dining. Just pick your favorites :)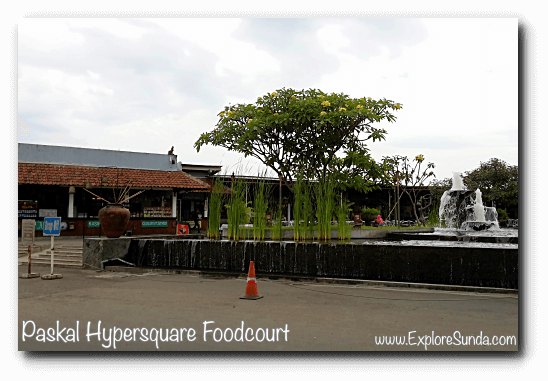 Dine-in In The Shopping Malls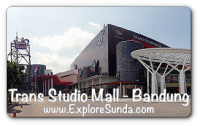 Today, the easiest place we can dine-in is inside the shopping malls. Since many people spend a lot of time in the malls, plenty of restaurants scattered in the malls. They vary from the global franchise such as KFC, mcDonald, Marugame Udon, and Carl's Jr. to the fine dining such as May-Star and Duck King. Every mall also has at least one food court. So, the best bet where your whole family can get your favorite meals is in the malls.
Check out the shopping malls in Bandung ...
Queen Restaurant
Queen is the famous Chinese food restaurant in Bandung since forever. If you are looking for Chinese food that are rarely offered in other restaurants, then you should try dine-in here. But the restaurant is rather old and the lightings are dimmed with lots of pillars covered with mirrors. The restaurant occupies a three stories building, which often fully booked, especially on Imlek (Chinese New Year) eve. 
Queen is located on jalan Dalem Kaum, near the city square (alun-alun). 
Snack Shops in Bandung
The most popular snacks that become the must buy are brownies and pisang bolen. But this city has more snacks than these two. Hence, we, at the ExploreSunda.com created a list of the most wanted snacks, both traditional and the new comers.
Find out more about the snacks and the snack shops... 
Another specialty product in this city is Aroma Coffee House in Banceuy street, which produces and sells high quality organic coffee.
Food are covered, next is what things to do in Bandung, or a bit farther in Lembang and Ciwidey?